Otto Pfister Appears Before Court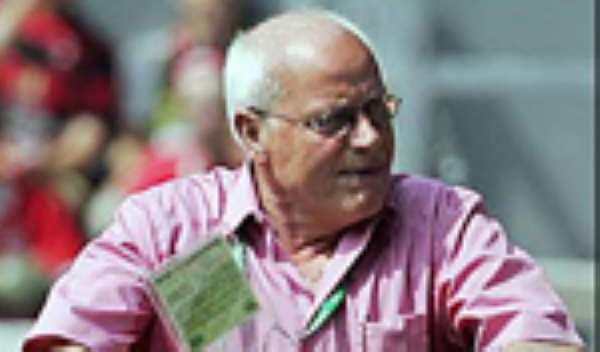 Coach of the Indomitable Lions of Cameroon, Otto Pfister last Tuesday appeared before a Cameroonian court to answer charges of breach of trust and fraud.
Investigations conducted by DAILY GUIDE SPORTS indicate that Mr. Fernand Taninche, the complainant, claims he deserves 24 million CFA (about 36,300 Euros) for the services he rendered the coach.
He allegedly facilitated Otto Pfister's appointment by linking him to the Ministry of Sports to get the coaching job in Cameroon.
According to him, it was agreed that Otto Pfister will pay 20 percent of his salary to him during his tenure as coach of the Indomitable Lions.
When DAILY GUIDE SPORTS contacted Otto Pfister last Friday, he refused to comment on the issue. He also kept mute over the statement he gave to the Cameroonian Police last week.
It would be recalled that Coach Otto Pfister, who was contracted by the Ministry of Sports of Cameroon, signed to handle the Indomitable Lions in 2007 with a monthly salary of 60 million CFA about ($120 000).
He replaced Coach Arie Haan from the Netherlands who resigned earlier on.
Otto Pfister led the Indomitable Lions to second place at the 2008 Africa Cup of Nations in Ghana, losing 0-1 to Egypt in the finals in Accra.
Reports from Cameroon indicate that Otto Pfister was appointed by the Ministry of Sports, contrary to the wishes of the Cameroon Football Federation (FECAFOOT).
FECAFOOT led by its president, Iya Mohammed, the Communications Director, Mr. S. Masungo and other members of the FA have therefore decided to keep mute over the on-going court case.
By Pierre Toto