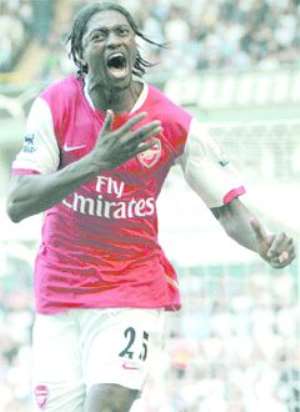 Former Black Stars physical trainer, Renard Herve, is hoping to get the backing of Ghanaian soccer fans as he leads a group of determined Chipolopolo (Copper Bullets) of Zambia against the Hawks of Togo in the opener of the joint World Cup/Nations Cup qualifiers at the Ohene Djan Stadium tomorrow.
And he believes last Wednesday's lone-goal victory over Division One side, Nania F/C at the Legon Park, provides the right tonic for his first win in the hot seat of the Southern African country.
Zambia, two-time finalists —1994 and 1974— are yet to re-enact that spirit which shook the continent in the '94 finals against Nigeria, just a year after a 30-man contingent, including 18 players, perished in the famous Gabon air disaster on April 27, 1993.
Indeed, the Ghana 2008 Nations Cup performance where they were eliminated in the first round epitomises the downward trend in the once-feared Zambian national team, presenting a huge responsibility for Coach Herve to resuscitate the Copper Bullets.
The three Katongo brothers, inlcuding Chris and Jacob Molunga of RC Strasbourg, are no doubt Coach Herve's main characters for tomorrow's dicey show. Yet, against a self-motivated side led by one of Africa's football idols, Emmanuel Adebayor, Togo could pull a surprise.
Advertisement
Togo's football crisis notwithstanding, coupled with a home ban following last year's riot in a Nations Cup qualifier agianst Mali, the players including seven of the Germany 2006 history makers are well psyched up to run at the Zambians.
Adebayor's ego as BBC footballer of the year, as one of the stars in the English premiership and against the backdrop of having the best of support due to Togo's proximity to Ghana and a huge Togolese presence in the country, the Hawks will be more conformable at the Ohene Djan Stadium than the Zambians.
Senaya Junior and Olufade Adekami, who is one of the leading scorers in the Belgium league with 13 goals, present varied attacking options for the Togolese which could confuse any opponent any time.
Togo's sole bank roller, Gabriel Ameyi, Vice President of the Togolese FA, who has been sponsoring the team since the crisis started is sending bus loads of supporters to present an intimidating atmosphere to aid their victory.
Their poor Nations Cup record notwithstanding, by not going past the preliminary round, Togolese officials are counting on Adebayor's iconic role to run riot tomorrow.
Preview by Daniel Kenu