Eto'o set for Barcelona exit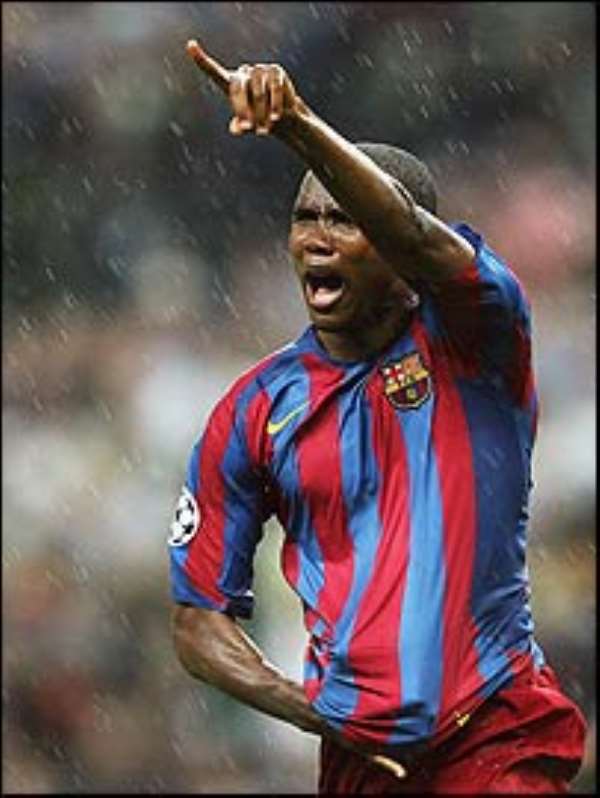 Eto'o has talked of playing in England or Italy
Barcelona president Joan Laporta believes an impending shake-up at the Spanish giants is likely to see the departure of Samuel Eto'o and Ronaldinho.
Laporta said the Cameroon striker and his Brazilian team-mate could leave the club as new coach Pep Guardiola looks to bring stability back to Barcelona next season.
Eto'o has been unhappy after enduring criticism to close the season.
The former African Footballer of the Year has talked of playing in England or Italy.
"Eto'o is a player who is loyal to the club colours, who gives so much and who makes you love him," Laporta said.
"He has also been one of the most emblematic players of this cycle and if he has to go then he deserves to do so with his head held high too, and with honor."
Barcelona finished third in the Spanish league, 18 points adrift of their fierce rivals and champions Real Madrid.
"We've told Ronaldinho that he needs new challenges," Laporta said.
"When you finish an era it's normal that the leading figures should leave.
"Last year, we thought that it might be the year to sell him, but given his enthusiasm and the appreciation that a club like Barcelona needs to have, we decided to let him stay on.
"Things haven't turned out the way he wanted them to."
Ronaldinho played only 11 games for the Catalans this season after rarely missing a match to injury following his arrival from Paris Saint-Germain in 2003.
Questions over his attitude and social habits took its toll over the course of the season.