Azumah still has his magic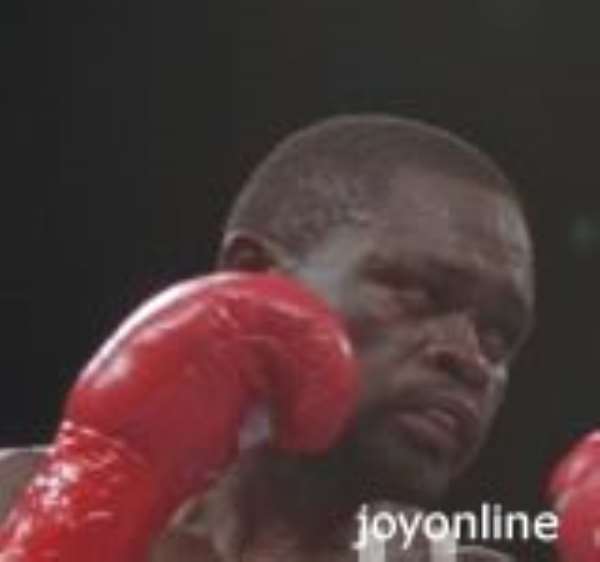 IN HIS pinstripe suit, white shirt and silk tie, he looked more like a multi-millionaire businessman and philanthropist than a great boxer getting ready to rumble.
Label him all of the above.
Azumah Nelson was back in Melbourne yesterday for the first time in 16 years. Not until he spoke -- softly and briefly, confidently and provocatively -- did the memories come into sharp focus.
Last time he vowed to knock out the then-unbeaten triple world champion Jeff Fenech in seven rounds.
He did it in eight in front of almost 40,000 at the Carlton footy ground in February 1992.
Yesterday he said: "If you want me to knock him out again, tell me the round - and I'll do it."
Yep, that sounds like the same bloke - even if he presents differently now.
Then, he was a magnetic, exotic presence, usually to be found wearing colourful casual clothes evocative of his west African home, Ghana, with enough gold bling to finance its national debt.
Now, there's no sign of the rings, necklaces and watches.
And the classy clobber doesn't quite disguise the reality that, like most men of 49, he's not quite as trim, taut and terrific as he was when he was possibly the best boxer to come out of Africa.
Then, his first wife Beatrice had died of cancer, leaving him to raise three kids.
Now he's married to Peggy, the kids are embarking on careers in law and architecture and he has three more.
If he's not a grandfather yet, he's certainly old enough to be.
All of which is why the prospect of him and Fenech, 43, meeting in the ring for a third time - which they will do at Vodafone Arena on June 24 - is being greeted with scorn and scepticism on one hand, and curiosity and nostalgia on the other.
How fair dinkum can it possibly be?
They are both talking a good fight - standard fare for fight promotions - but Nelson seems serious. His pride is important to him.
"When you call me to fight," he said, "I wake up, put everything down and train like an animal.
"I don't joke with my boxing and my training, so this fight is going to be war."
While it remains unclear quite why either man would really want to do this, Fenech admits that it still rankles that Nelson destroyed his unbeaten record - and, effectively, his career - after a highly controversial draw at their first encounter.
Asked yesterday if he had something to prove, Nelson said: "No, we've proved what we had to prove already."
So would it mean anything if he lost? "No - but I'm not gonna lose."
There will be winners whatever happens.
Fenech says he will be donating a large sum to a cerebral palsy charity, while Nelson says his is going towards a foundation for underprivileged kids that he plans to open in September.
"We have a lot of problems in Africa, children who are intelligent but their parents can't pay school fees," he said.
"I want to coach them in sports, discipline, teach them everything so that they will be able to live life properly."
He agrees that he is a rich man, having earned heavily inside and outside the ring, including $2 million for the last Melbourne fight.
He says his philanthropy is not new. "From the age of eight or nine, if I have had money I have shared it and I share it today," he said.
"I believe in the Bible, I believe in God, and this is what God wants me to do."
The last time I interviewed Nelson, he came across as a man of faith, sincerity, courage, dignity and utter self-belief. He still does.
He was also a hell of a fighter. If he can recreate even a glimpse of that, the most improbable event on Melbourne's sporting calendar this year might have more going for it than some think.