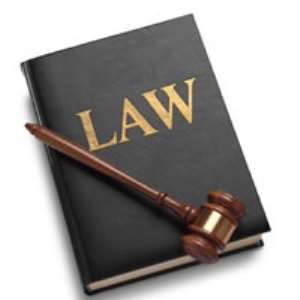 An argument ensued between a legal practitioner and a police officer at an Accra circuit court over a docket allegedly sent to the Attorney General Office for advice.
Mr Gabby Okyere-Darko, who represented Bawah Abdul Jalil, a Police Constable who is accused of stealing three AK 47 rifles and 20 rounds of ammunition with three others registered his displeasure over the delay in commencing the trial.
Jalil has pleaded not guilty and he is on a 1,500 Ghana cedi bail.
Mr Okyere-Darko accused the police of shifting blame on the office of the Attorney General because his investigations revealed that the docket was not at the A-G's office.
Mr Okyere-Darko said he personally wrote to the office of the Attorney General on February 21, this year enquiring about a duplicate docket of his clients case but the response from the A-G on March 11, this year indicated that dockets was not there.
Subsequently, the A-G had asked the Criminal Investigation Department to forward the said docket to them.
Meanwhile a letter covering the forwarding of the docket was written on March 26, this year by the Police.
Assistant Superintendent of Police (ASP) Aidan Dery, the prosecutor in his response said it was not likely that the Police would call witnesses because the docket had been forwarded to the A-G office and until the Police receive response from the A-G they could do nothing about the case.
He said there were procedures in forwarding docket to the Attorney and the Police was following that.
The court on 24 April, this year, adjourned the matter for two weeks to enable the police to complete their investigations.
The court indicated that it would discharge the accused on the next adjournment date if prosecution failed to make any progress.
The facts of the case are that Jalil is attached to Guard Duty Unit of the Ghana Police Service, Headquarters.
Prosecution said between March 26, 2007 and April 5, 2007 Jalil managed to acquire three sets of Police uniforms for suspects A Richard, K. Boateng, P.K Godwin, all at large.
Jalil led his three accomplices all dressed in Police uniforms to the Panthers Unit Armoury at the Police headquarters to give fake service numbers to the armourer and collected three AK 47 assault rifles and 20 rounds of ammunition and had their names booked in the station records.
Prosecution said the three suspects went away with the rifles and uniforms and never returned. When the armourer detected the anomaly, he reported the incident and Jalil was arrested.
Jalil has however failed to assist the Police to trace his accomplices and the three AK47 rifles.