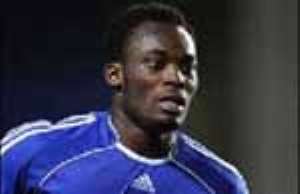 A Ghanaian has been named among the top 10 richest people within his industry in Great Britain.
That man is the well renowned and sensational Chelsea and Ghana midfielder Michael Essien.
Essien who at only 25 years of age is the 8th richest footballer in London, is worth a cool £10 million, or $20 million.
The latest rich list, which was published by The Sunday Times, is dominated by Chelsea players, with seven of the top eight all playing for the west London club.
Chelsea football club is owned by the Russian oligarch Roman Abramovich and the players, some of whom are paid over £100,000 in weekly wages, live lives of luxury in the English capital.
Another Chelsea player of African descent Didier Drogba ranks five places higher than Essien in 3rd place with a fortune of £13 million or $26 million.
Essien was born in Accra to Aba Gyandoh and James Essien and started his playing career at his local club Liberty Professionals based in Dansoman.
In July 2000 French Club SC Bastia signed Essien where he gained popularity with a string of performances playing out of his favoured central midfield position.
In 2003 he moved to French Giants Lyon where his popularity grew even further and then in 2005 Ambramovich's Chelsea moved in to sign him for £26 million, one of the highest fees ever for an African player.
He is one of the most popular figures at Chelsea and has had another amazing season although debatably not as good as the 2006/2007 one.
Last season, he was voted the supporters' player of the year despite Didier Drogba's 33 goals.
For the first half of this season, he was played out of position at either right back or centre back but nevertheless he still impacted the team's play greatly.
Playing in his favoured midfield role, he has been in great form lately scoring lots of goals.
Essien's performances at the 2008 Africa Cup of Nations held in Ghana showed why he is considered such a model professional.
His work rate and effort for the team's cause were phenomenal and he even captained the team successfully against Cameroon while playing again out of position in central defence.
His performances have captured the praise of football fans, pundits and critics all over the world, and he is one of the only footballers who seem to earn their money with the efforts they put in.
This puts him rightfully in the top 10 of the rich list of London footballers and makes him one of the highest paid and richest Ghanaians based outside the country.
Fatherhood
In Ghana, he made the news headlines recently when he reportedly fathered a baby with a half-Lebanese girl in London.

Reacting to the reports Essien acknowledged the child took exception to its newsworthiness saying there was no need for him to come out publicly to tell the world what he does for his family and friends.
"My parents and my family did not come out publicly to tell the whole world they were looking after me when I was a child. So when it is my turn to support my family I should not come before the world and tell them what I do for my family and friends".
Essien continued: "When I do good, I do it for the sake of God and to broadcast it to the world means I want people to praise me. I prefer to please God and will remain silent on these issues."
By Joss Haynes