Torgah, Mona Excel in Bok-Nam Kim Tourney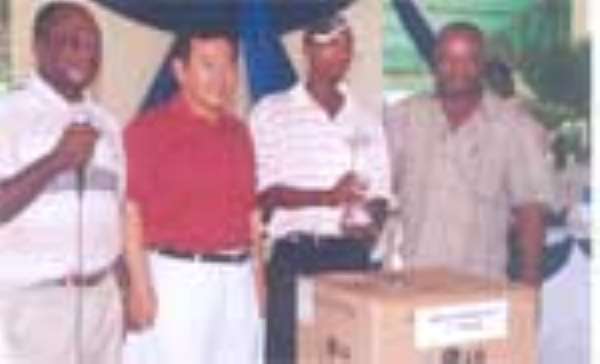 Excellent scores, good patronage and camaraderie characterised the 13th Bok-Nam Kim Memorial Golf held at the Tema Country Golf Course over the weekend.
The one-day annual event, held to immortalize the late Korean sports philanthropist and businessman, Bok-Nam Kim, also a past president of the club who died in 1996, recorded some of the book scores this year.
A huge 56 net scores by S. J. Cho in the Ladies Special Event and 59 net by S. Oberoi also in the men's sub-contest were indeed great; not to mention the 61-68 net scores, all below the courses par score by six prize winners of the Men's Handicap play.
At the end of it all however, it was young Francis Torgah, one emerging great golfer, and Evergreen Mona Captan who took away the top prizes, each with a fridge and trophy.
Torgah posted an 11-under par 61net while Mona made it a 2-under in the ladies, beating Bea Vetsch-Bempong and Francesca Vandyke 73 net each and K.S. Lee 74 net in that order.
Closely following Torgah in the men's exciting finish were R. Coffie 63 net and K. Dickson 64net.
Hae Kwan Chung, Consular of the Korean Embassy who stood in for the Ambassador, Wi Keyei-Chul, in his remarks commended Tema Country Club, and all participants for helping to remember the late Bok-Nam Kim.
He recalled the tremendous contributions of the late Kim in the development and promotion of sports in general.
Hon Felix Owusu-Adjepong, the special guest, in his remarks was full of praise for the Korean business tycoon whose other social efforts helped to make Tema Country Club what it is today.
Mr Soon Chun Chul, President of the Korea Residents Association in Ghana on behalf of Mrs Young Kim, chairperson of the AFKO Group, donated GH¢1,500 to the club for its maintenance.
From The Sports Desk