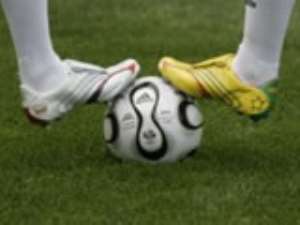 Cape Coast Mysterious Dwarfs combined skills with stamina to hold Feyenoord Academy to a pulsating 1-1 draw in their Division One League match played at the Cape Coast Robert Mensah Stadium on Sunday.
After a goalless first half which saw Feyenoord missing two begging chances to score, they resumed the second half strongly and kept the Dwarfs' vital area boiling.
Parading players including Ernest Asante, Daniel Boateng, Mandela Ocansey and Solomon Asante, they combined their game plan beautifully with man-to-man passes coupled with inter positional changes, forcing the Dwarfs defence to work overtime to contain the attack.
Feyenoord in the process earned a spot kick from which goalkeeper Philip Macarthy scored from the resultant kick in the 60th minute.
Dwarfs forced the tide in their favour and also equalized with a spot kick taken by their playmaker, Francis Gyepi in the 72nd minute.
In another match played at Sekondi, Cape Coast Venomous Vipers also held Sekondi Eleven Wise to a 1-1 draw.