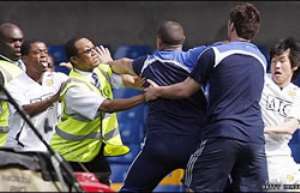 Manchester United players were involved in a post-match scuffle with Chelsea staff after their fiery 2-1 defeat.
Patrice Evra, Gary Neville, Ji-Sung Park and Paul Scholes were warming down at Stamford Bridge when they were asked to move by groundstaff, sparking a row.
Chelsea say they will look at CCTV footage before deciding on any action.
Meanwhile, United's Rio Ferdinand apologised to a steward after accidently kicking her following Michael Ballack's late penalty winner.
Ferdinand lashed out at a brick wall as he walked off the pitch but also made contact with a female steward.
"Unfortunately, a lady was stood by and I accidentally brushed her with my foot. I apologised profusely and went back to make sure she was OK," he said.
"I have arranged for a bouquet of flowers to be sent to her.
"Credit to her, she laughed it off and was very understanding. She said she wasn't hurt."
Meanwhile, United are hoping defender Nemanja Vidic and striker Wayne Rooney will be fit for Tuesday's second leg of the Champions League semi-final against Barcelona.
Serbia centre-back Vidic suffered a facial injury following a challenge for the ball with Didier Drogba, while England star Rooney was forced off with a hip problem.
Boss Sir Alex Ferguson said: "Vidic has a few stitches under his lip and he's lost a tooth.
"He was dazed rather than concussed but if we'd waited for him to come round we would have played 10 or 15 minutes with 10 men and you can't afford that in such a big game. So we had to take him off.
"Rooney's got the same knock as he got last week, straight on the hip bone. It takes a while for that to clear because when you get a bang on it, it's very painful. I'm hopeful he will be all right for Tuesday."