Rawlings pleads with Azumah to spare Fenech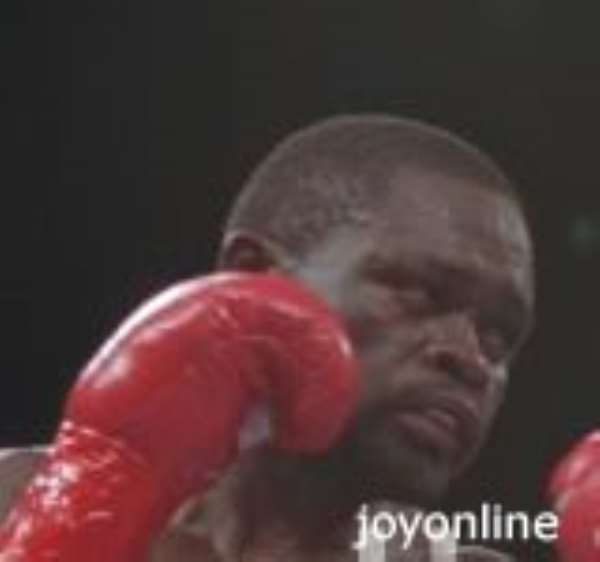 Former President Jerry Rawlings has asked 'Prof.' Barimah Azumah Nelson, Ghana's former World Boxing Council Super Featherweight Champion, not to punch Australian Jeff Fenech 'too hard' when the two clash again in Australia in June.
The former WBC Super Featherweight Champion has threatened a knockout against Fenech, whom he has fought twice already, and says he intends to teach the Australian why he Azumah is now Fenech's boxing grandfather.
The 10-round non-title fight is slated for Sydney, Australia on June 24, this year, and Azumah says he will be ready to tell exactly how the fight will go when the fight has only a month to go.
On Wednesday, Azumah was all smiles and merry when he joined a colourful array of politicians of varied traditions, at the instance of the former president, to mark Azumah's induction into the International Hall of fame and to celebrate him as a great achiever.
Said Rawlings; "Azumah is at his best when the whole crowd and the odds are against him and he is alone. This time you say you are going to knock him out, if you knock him out, don't knock him too hard ok…" said the former President, as the gathering burst into a side-splitting laughter.
The line up included Dr. Edward Mahama, People's National Convention presidential candidate, Dr. Kwaku Sarfo of the Convention People's Party and Johnson Asiedu Nketiah, National Democratic Congress General Secretary as well as Mrs Nana Konadu Agyeman Rawlings.
Azumah had told Joy Sports that he was taking the encounter very seriously and intended to carry 'his own referee' into the ring.
"There is no joke in entering the ring. As soon as you enter the ring then it is action. It's a war you know, so we are going to fight for the third time and see who is who because since I beat him in the second fight he said he couldn't sleep and when he thinks about it he couldn't understand,' Azumah said on Joy FM's Sports Link.
At 49, Azumah said the sheer disrespect for his stature amounts to a challenge from the 43-year-old Fenech, (both are in boxing's Hall of Fame) and that serves as his major motivation to "teach him that I'm still the best". Part of Azumah's share of the purse will also go to support his charity project to groom the youth into the sport.
Azumah's first fight with Fenech ended in a bitter draw at which both fighters never believed the verdict. The second was a disastrous outing for Fenech, who in front of his pet fans in his own backyard, crumbled clumsily onto the canvas from an Azumah deadly, right-handed slam in the seventh round.
Author: Isaac Yeboah