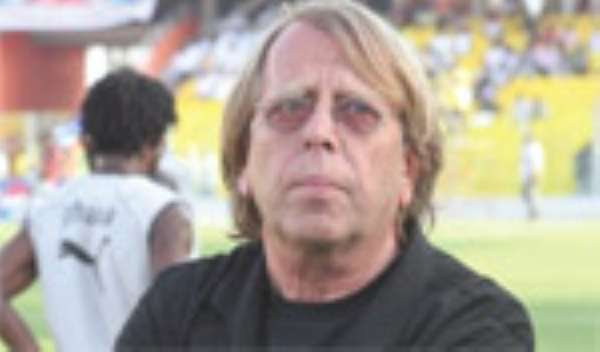 THE GHANA FOOTBALL Association (GFA's) management board is under pressure from the public to sack Black Stars coach, Claude Le Roy, due to his alleged involvement in controversies recently.
Coach Le Roy was reported to have sent his Curriculum Vitae (CV) to the South African Football Association (SAFA) for a coaching job to handle the country's national side, Bafana Bafana, following the resignation of Brazilian, Carlos Alberto Perreira.
Other investigations revealed that Le Roy's CV was also submitted to the Cote d'Ivoire Football Federation by his agent Gael Mahe for the same purpose some weeks ago, all without the knowledge of his employers, the GFA.
However, the GFA has stated that the Frenchman has denied all allegations regarding the submission of his CV to those countries seeking another job.
Sources close to the GFA have indicated that the Management Committee of the FA, which has been monitoring the situation, has given itself two weeks to find the next coach for the Black Stars.
According to Randy Abbey, spokesman for the GFA, it will not be prudent for the FA to make a decision without critical consultations and analyses of the relevant issues.
He noted that the FA will wait two weeks before making a decision about the situation. It will be recalled that Coach Leroy took over from coach Doya after the 2006 World Cup in Germany.
His major achievement so far has been the third place the Stars clinched in the recent Nations Cup as well as leading the country to 14th place in the FIFA Ranking- the highest ever position since the country gained independence in 1957.
By Pierre Toto