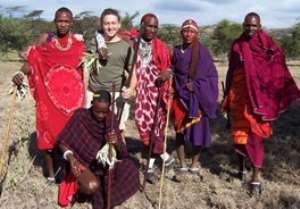 Six Maasai warriors from northern Tanzania, who will be running in the London Marathon, have opened an exhibition dedicated to the race.

The warriors are raising money to provide safe drinking water in Elaui, their village in eastern Africa.
They will run the 26-mile route on Sunday wearing traditional clothes, as well as shoes made from car tyres.
The six, who opened the London Marathon Exhibition in Docklands, will also carry sticks and sing while running.
The Maasai lead a semi-nomadic lifestyle where cows are a valued asset.
They are known for their running abilities and traditionally live on a diet featuring blood and milk.
Isaya, who is leading the Maasai team, said previously: "Our elders told us that we can do it because we have been running all over for killing a lion and herding cattle.
"We can help them by getting them clean water so right now all of us are training very hard because we want to do it to make life easier for the Maasai people."
Greenforce, an aid organisation which has been working with the Maasai since 2005, organised their participation in the marathon.
Paul Martin, from Greenforce, who will also run with the warriors, said: "The Maasai were enthralled and amused by the idea that money could be raised by running.
"The Maasai are proud people, and they see this as an innovative way to raise money and supply their village with clean water."
The organisation estimates that the cost of locating water and building a sustainable bore hole for the village will be between £20,000 to £60,000.
There are between 500,000 and a million Maasai in Africa, who mostly live in northern Tanzania and southern Kenya.
Some 4000 people are expected to run in the London Marathon.