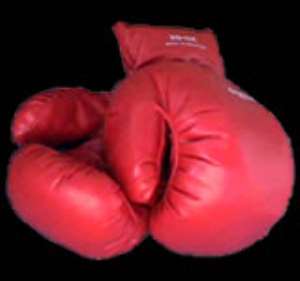 Thomas Azurie, a product of Billy Kotey Gym had a rather nightmarish experience in his first competitive contest as an amateur boxer, when he was overwhelmingly beaten by Moses Lartey of Will Power Gym in a welterweight encounter Friday night at the Prisons Canteen, Cantonments.

The clash was one of the highly publicized bouts of fight night three of the Greater Accra Amateur Boxing Association (GAABA) League. But it turned out to be an easy one for Lartey, who gave his opponent a real baptism of fire.

The well-built Azurie shockingly displayed a false start against the hard-hitting Lartey, who unleashed heavy punches from both hands to the scoring sections of the former, whose only response was through wild punches and jabs that hit the air and posed no danger to his opponent.

Twice, Azurie was floored in the second and fourth rounds, but he nearly caused a stir in the third round, when one of his snap punches nearly forced Lartey to the canvas, giving a strong indication that all was not lost.

Despite the countless punches visited on his body by his more experienced opponent, the debutant managed to complete the regulatory four rounds before being declared the loser.

In other fights, Emmanuel Agirie of Fit Square accounted for Sparta Gym's Joseph Narh in the same division via a unanimous decision.

In the middleweight category, Ahmed Giblim of Wisdom made mince meat of Attoh Quarshie's King Paul, with all three judges scoring in his favour to end the reign of the latter, considered as one of the brightest forces of that division.

Offei Dodoo of Attoh Quarshie Gym maintained his unbeaten run by beating Emmanuel Abu of Believers Gym with a unanimous verdict, just as gym-mate Daniel Amarteifio replicated his gym's victory over Bright Ayala of Wisdom Gym both in the lightweight division.

In the featherweight, Will Power Gym's Joshua Barnor defeated Ekow Wilson of Black Panthers Gym by 3-0.

James Kotey made certain of a second win for Wisdom Gym in the third week when he outclassed Richard Quartey of Black Panthers Gym in the Bantamweight division by a split 2-1 decision, while his colleague Raphael Abrompah succumbed to Fit Square Gym's Emmanuel Quartey by a similar margin.

In the flyweight category, Jessy Lartey of Fit Square emerged superior to Wisdom Gym's Sulemana Tetteh via a unanimous 3-0 ruling, while George Addy of Will Power gained a split 2-1 verdict over Duke Micah of Fit Square.