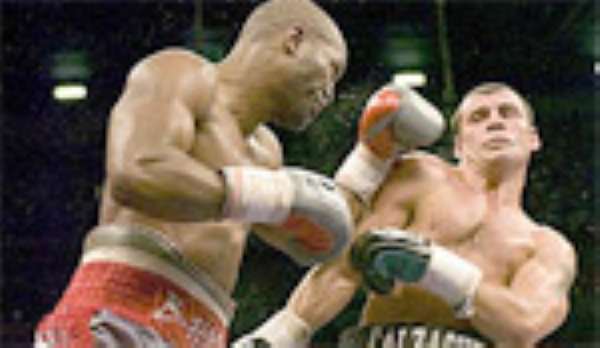 Joe Calzaghe, reigning WBC/WBA/WBO Super Middleweight Champion on Saturday maintained his undefeated status when he won a controversial split decision over Bernard 'the executioner' Hopkins in their Light Heavyweight contest at Las Vegas, Nevada, USA.
Prior to the fight, Hopkins had heightened the tension when he said, "I would never let a white boy beat me", but at the end of it all, Calzaghe went away with victory.
"Even if the Judges gave it to him, my fans know that I won. They may have the judges and officials, but the fans are the real judges.
I made him fight the way I wanted…I took him to school," 43-year-old Hopkins said when the verdict was announced in favour of his opponent.
The high-profile bout, described as a 'Superfight', was witnessed by celebrities including Sylvester Stallone, Bruce Willis, Whitney Houston, Catherine Zeta-Jones, Arnold Schwarzenegger, Al Paccino and Sugar Ray Leonard Jnr.
In the opening rounds of the fight, beamed live on Metro TV, Hopkins dictated the pace with his counter punches and right hooks.
In the very first round, he showed the stuff he was made of when he sent Calzaghe reeling on the canvas with a right hand shot. But with 4,000 vociferous Welsh fans cheering and shouting his name, nothing seemed impossible for the undefeated 36-year-old Briton. He chased, punched, wrestled, and even danced in order to win the bout.
With the fight slipping through his fingers like the sands of time, Calzaghe's style in the first 6 rounds seemed all but effective.
His father and trainer, Enzo Calzaghe could not help but shout at his son to wake up, at the end of the 6th round.
And indeed, he came around, forcing the slippery Hopkins to come out and trade punches with him.
Just when Calzaghe seemed to be gaining control of the fight however, Hopkins nearly knocked him down for the second time, with a right hook.
Calzaghe owes his victory to the Welsh fans who made every punch of their compatriot count, as they screamed with each combination; and they jeered at the Hopkins when he wasted more than two minutes after receiving a low punch.
The highpoint of the fight came in round 11 when both pugilists traded punches in the middle of the ring, with the bipartisan crowd cheering their respective countrymen.
In the end though, the judges scored the bout 114-113 (Hopkins), 115-112 (Calzaghe), 116-111 (Calzaghe).
The fight was shown to Ghanaian viewers on Metro TV, by the kind sponsorship of Syriatex, Ezwich, Fruity Juice, Azar Paints and Cocoa Liquor.
By Mohammed Muniru Kassim