Angry Hearts Fans Boo At Players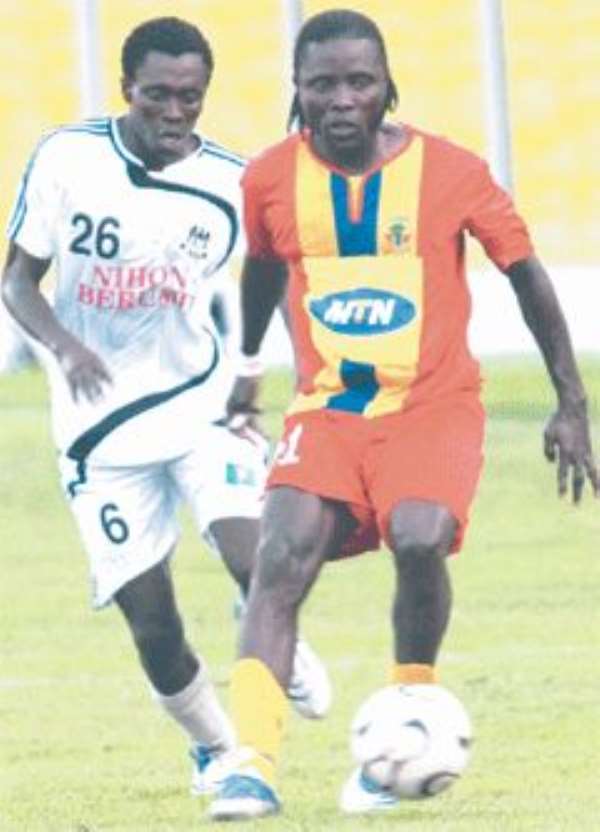 Fans of the champion club, Accra Hearts of Oak, last Wednesday booed at their players after they drew 1-1 with Swedru All Blacks in thier friendly game played at the Ohene Djan Stadium.
The friendly encounter was part of a series of warm-up matches to test their new recruits and also prepare the team for the commencement of the second part of the league which starts on April 27.

The reaction of the handful of fans who patronised the game was a practical display of their frustration about their idol club's inability to beat less facied All Blacks, especially coming in the wake of a previous drawn game against Hearts of Lions in another friendly game last Sunday.

Hearts coach Eyal Lachman, after the match, instructed the entire team to run around the field, an indication of his dissatisfaction with the outcome of the game as well as the fitness level of the team.

Former Hearts striker, Ishmael Addo, announced his comeback to the premiership when he put his team ahead in the 49th minute after he blasted home a right-footed shot just inside the edge of the penalty box to the left corner of the net.
Three minutes later Francis Bossman nearly increased the tally but his expectly taken free-kick could not beat Ransford Cudjoe who had to stretch to his elastic limit to save the goal-bound shot.

Bossman again came close to scoring in the 69th minute during a solo run a few yards away from the centre circle. He meandered his way through the defence of All Blacks into the penalty box, but his final delivery rolled across the face of goal.

However, in the 73th minute Hearts nearly paid dearly for a mistake they committed. Coach Lachman called the entire team to the touchline for an instruction after referee Charles Dowuona whistled for an infringement against Hearts.
 
The All Blacks team quickly took the kick into the penalty box of Hearts only for the Phobian players to stampede onto the pitch to defend what could have been a ridiculous way of conceding a goal.

Edward Sosu put his team at par in the 77th minute when he towered above his markers to head home the equaliser from a Daniel Djanbah's free-kick taken from the edge of Hearts' penalty box.

Story by Peter Sarbah