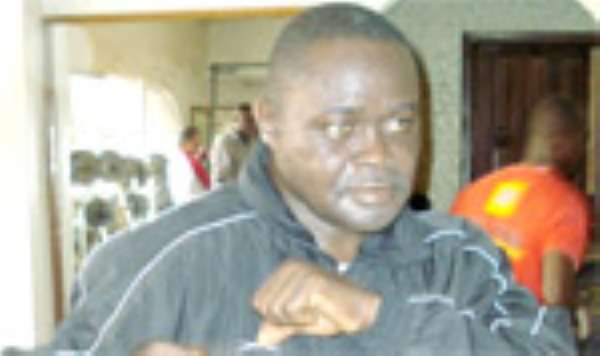 FORMER WORLD Boxing Council (WBC) Super Featherweight Champion, 'Professor' Barimah Azumah Nelson has announced that he is staging a comeback.
According to the three-time world champion, he would mount the ring to fight against one of his former opponents, Jeff Fenech of Australia in June.
In an interview with DAILY GUIDE SPORTS at his residence at Achimota in Accra, 49-year-old Azumah said initially he had wanted to raise funds for his foundation in Ghana, following which he proposed an exhibition fight against Jeff Fenech, to take place in Accra at a date of his convenient, so that Ghanaians would be privileged to watch him live before his full retirement.
However, the Australian who heard the news did not take it lightly and said he had a score to settle with Azumah since he lost twice to the Ghanaian.
He therefore proposed to fight the boxing professor in Bankok, Thailand- a neutral ground.
According to Azumah, who will be 50 on July 19, the fight, a 10-rounder, will take place in Sydney, Australia on June 24, 2008. He described the bout against Fenech as a real contest.
"As a boxing Professor, I told him to stage the fight in Australia without fear because I am sure that I will beat him.
"At even 80 years I can still surprise people by accepting to fight.
It is the profession I learnt. It is to me what football is to Abedi Pele. And I am compelled to knock Fenech down before the limit because if the fight travels the full distance, it would be easy to give it to him on his home soil," he stated.
Azumah, who was inducted into the International Boxing Hall of Fame on June 13, 2004, retired from boxing in 1998 after losing to Jesse James Leija.
His opponent, Fenech, also a three-time world champion, received a lot of flak from his countrymen when he announced his comeback.
Fenech, who turns 44 next month, has asked long-time mentor and trainer Johnny Lewis to be in his corner.
In another stunning development, former world champion Kostya Tszyu, while expressing major reservations, said he would be prepared to help Fenech's return.
"I'd like to know the reasons - what Jeff has got to prove," Tszyu said.
"I'm 39 and can't find a reason to come back. I wonder why Jeff would do it at 43.
"But he has done so much for boxing in Australia and is a Hall of Famer after all. If I can help in any way, I will."
By Pierre Toto