Okocha Dreams Premiership Return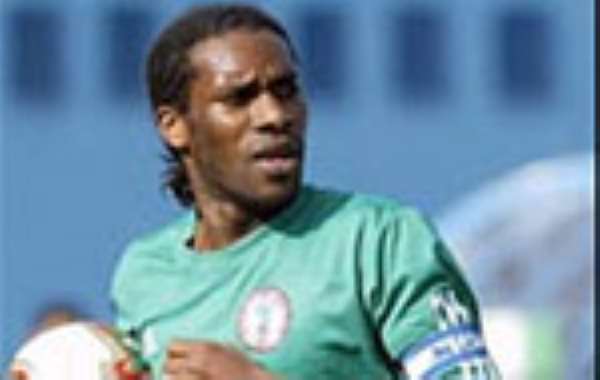 THOUGH his performance in the less competitive English championship for Hull City this season is not the stuff of a legend, former Super Eagles captain Austin Okocha believes he will return to top flight soccer.
Okocha spoke to Mega Sports on Star 101.5 FM on Tuesday about his desire to end his career playing in the big league and how he is being treated by the authorities at Hull.
"Everything is going according to plan, we are doing very well and hopefully we'll try and push for promotion this season. The dressing room is focused.
You have set a target for yourself, your teammates and try to encourage them that nothing is impossible.
"The manager knew me from Bolton Wanderers and one of the reasons he signed me on was to help push the club to the Premier League which I believe is achievable."
Okocha, a former Premiership player, also said that he is not surprised that the team is doing well in the Championship because the players have been very committed, with everyone trying to achieve something this season.
"We have a bunch of young chaps who are very committed to the club and constantly tell themselves that it is possible to gain promotion at the end of the season and play in the Premier League."
Speaking on his desire to return to the big league, the emperor who did not mince word about this ambition, declared that he misses the top flight and can't wait to taste action in that cadre yet again.
"I will be lying if I say that I'm not missing Premiership football but you have to move on in life, set different targets for yourself at every stage and do the best you can wherever you find yourself.
I'm not a greedy person. I know I'm almost at the end of my career.
I'm in Hull now and must do the best I can and make sure I keep doing well for the club no matter what."
However, if there is one regret Okocha harbours, it is the fizzling out of the club he once captained in the Premier League.
The player laments the dwindling fortunes of the Reebok side, "it is a shame to see all the good works that we put in Bolton go down the drain but hopefully I pray they get themselves back but it's a sad thing to see our handwork being wrecked."
Source: The Guardian