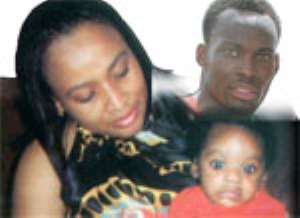 Information reaching DAILY GUIDE SPORTS indicates that Ghana's most rated football star Michael Essien has been blessed with a bouncy baby boy.
The boy, who was born on October 28, 2007 in London to a half Lebanese woman, is named Jemine Kwamena Essien.
Jemine, who is a photocopy of Essien, is the first child fathered by the celebrated Chelsea star and Ghanaian international, who moved to Stamford Bridge for a hefty £26 million from Lyon in 2005 - the highest fee paid for an African transfer.
Apparently, the baby should have been named Kwesi but was christened Kwamena by Essien because he resembled him.
Essien, who scored Chelsea's only goal in their Premiership encounter against Wigan last Monday, is a huge showbiz man in the United Kingdom since his arrival from Lyon.
Many Ghanaians, as well as fans of the footballer have expressed shock at the seeming secrecy over the birth of Essien's son.
"Our own Essien has a son, and it is being kept a secret?
It shouldn't be so. This is something worth celebrating. I am really happy for him," remarked Erica Dagadu, a football fan resident at Tema.
"The boy (Jasmine) looks like him. I hope he inherits his skills so that one day he would also play for the national team," Aminu Issah, a die-hard fan of the Black Stars said.
The questions many soccer fans are asking at the moment are that; how would Essien's fiancé, Nadia Buari, take this news which was first carried by Sportslife in its Tuesday edition? And who is the mother of Jemine?
Investigations conducted by DAILY GUIDE SPORTS indicate that Jesmine's mother is in her mid-twenties and lives in London with her parents.
The four-month-old child did not leave out any of Essien's features- his forehead, lips and eyes are exactly like that of the Chelsea star.
It is believed that Essien had been dating the pretty lady alongside Nadia, a top Ghanaian actress.
From The Sports Desk