Agric Ministry to dispose of obsolete pesticides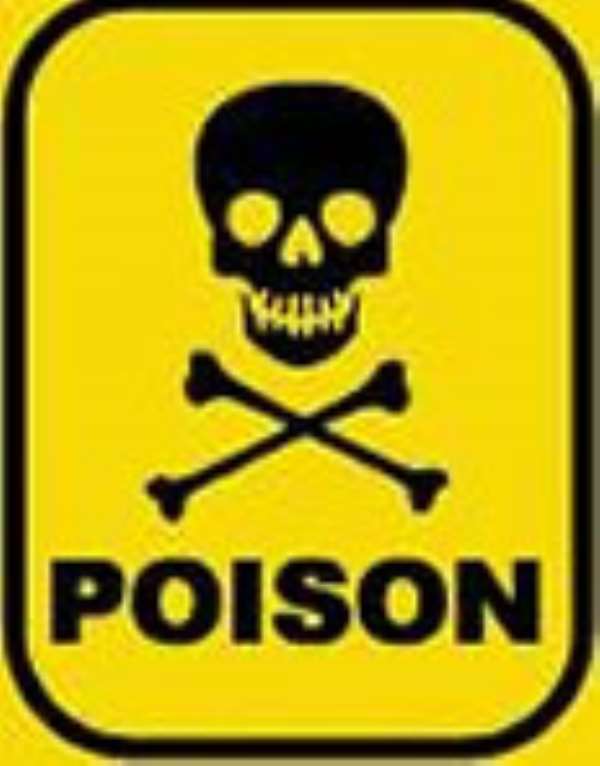 The Ministry of Food and Agriculture (MOFA) is collaborating with the Ghana Agricultural Inputs Dealers Association (GADA) to dispose of 71 tonnes of obsolete stocks of pesticides that have been found to impact negatively on the soil and the environment in the country.
The pesticides, mainly Aldrin and Monocrotophos, have been banned in the country because they have been found to contain high levels of toxic chemicals which are dangerous to human beings and are also a threat to food safety in the country.
Majority of the stocks were discovered during a study by the Environmental Protection Agency (EPA) at the warehouses of the Ghana Cocoa Board at Anyinam, the Benso Oil Palm Plantation and the Twifo Oil Palm Plantation.
The Deputy Minister of Food and Agriculture, Mr Clement Eledi, who opened an international workshop on "Alleviating Counterfeiting and Piracy of Crop Protection Products'' in Accra yesterday, said the studies revealed a tremendous amount of stocks that were impacting negatively on agriculture in the country.

The workshop was organised by Croplife Africa and the Middle East, an advocacy group promoting the safe use of crop protection products He said the intensity of the agricultural inputs business, largely due to the liberalisation policy of the government, had increased the accessibility of inputs to rural farmers and brought in its wake serious problems for the industry which all stakeholders should join hands to solve.
He said, for example, that counterfeiting and illegal trade in agricultural inputs were on the increase in the country and damaging farmers' crops and the environment at large.
Mr Eledi said it was in that vein that MOFA was collaborating with Croplife and GADA, the representatives of crop protection products suppliers, to mount a vigorous advocacy campaign against faking and adulteration of pesticides and other agricultural inputs in the country.
He said in addition to the advocacy campaigns, MOFA had undertaken the training of more pesticide inspectors and extension agents to be sited in the districts and farming areas.
Mr Eledi said the inspectors were being mandated and supported with the necessary logistics to strictly enforce pesticide regulations.
He said the ministry, in addition, was seeking the commitment and co-operation of administrative and law enforcement bodies such as the Customs, Excise and Preventive Service, the Police Service and the Parliamentary Caucus on Agriculture to combat the danger of crop protection piracy in the system.
The President of Croplife Ghana, Mr William Kotey, appealed to the government to waive taxes on the importation of materials for repackaging agricultural produce in the country to help create more jobs for farmers and ensure wealth creation in the country.