Robbers Attack Agbeko's Trainer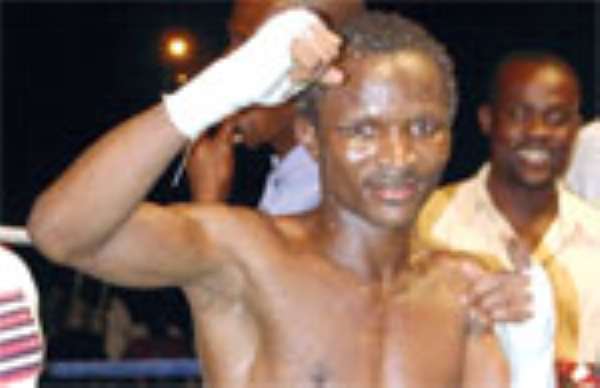 Bismarck Bruce, 27-year-old trainer of International Boxing Federation (IBF) Bantamweight Champion Joseph 'King Kong' Agbeko, was on Tuesday March 25, 2008 attacked by armed robbers.
About four armed robbers inflicted cutlass wounds on the boxing trainer's hands, the back of his head and some parts of his body.
But for the refusal of the US Embassy to give him a visa earlier, he would have traveled with Agbeko at the beginning of last month.
Meanwhile, DAILY GUIDE SPORTS has gathered that Bismarck Bruce has recovered fully and since joined the IBF Bantamweight Champion in New Jersey.
The trainer is one of the most gifted boxing instructors currently in Ghana and according to report, he is ready to impart new techniques and antics to Agbeko to successfully defend the title he won last year from Luis "El Demoledor" Perez.
Nevertheless, Agbeko has begun preparing feverishly for the fight since he left Ghana for the U.S.A early last month.
Agbeko is scheduled to defend his IBF Bantamweight title against William Gonzalez of Mexico in New Jersey at the end of this month.
His Mexican opponent is one of the best fighters in the bantamweight division having lost only once in his boxing career.
By Charles Nixon Yeboah