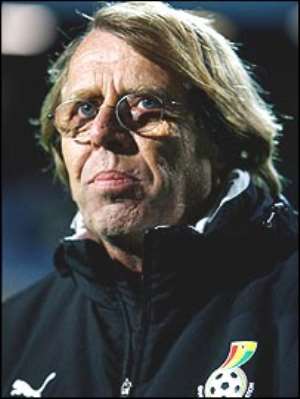 Ghana's coach, Claude Le Roy is positive the Black Stars could thrive in the newly created African Nations Championship (CHAN).
Ghana will begin her preliminary round qualifiers against Niger at the newly constructed Tamale sports stadium on Sunday, March 30.
He told GNA Sports that even though he has a limited time to prepare the team for the duel Ghana can come good to enhance qualification for the tournament designed by the Confederation of African Football (CAF) for players who feature in the various domestic leagues in Africa.
"We will have less time to prepare but I think we should be able to get the results that will keep our dream alive."
The Black Stars who are drawn in Zone West B play Niger on March 30 at the newly constructed 20,000 all-seater capacity stadium before traveling to Niamey for the reverse fixture in a fortnight's time.
Le Roy said he would take advantage of the competition, which he said provides a fine platform for local players and the building of a solid national team.
"This is about the best idea from CAF so far. It is very interesting and for me, it is a dream come through.
"I have always clamoured for such a platform and I feel Issa Hayatou (CAF President) has finally heard me."
The competition is scheduled for February 22-March 8 in 2009 in Cote d'Ivoire.
Le Roy told GNA Sports he was however concerned about the rate at which local players join the exodus wagon without maturing fully to make their mark.
"It is so sad how players often leave the country without warning. Frequently you only hear about a player's departure when you are still selecting your team and enquire about them."
Coach Le Roy cautioned the players about their agents, who he accused of only interested in their monetary gains than their general welfare.