In-Form Kotoko Play Wikki Of Nigeria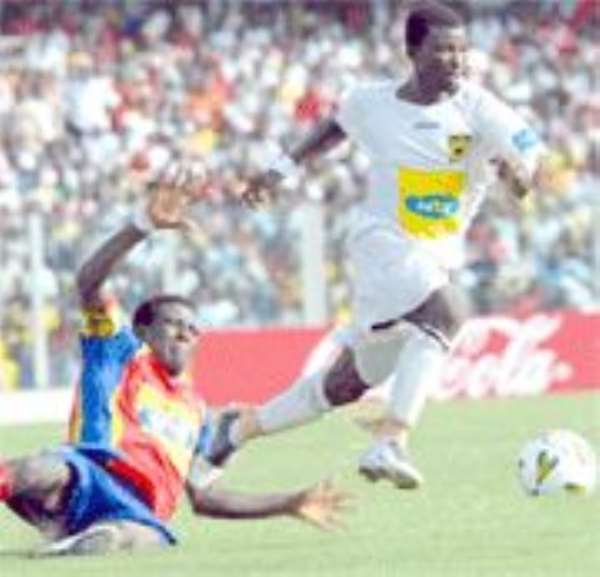 All eyes will be on the new kid on the block Eric Bekoe as Asante Kotoko enplane for the Nigerian City of Bauchi to face Wikki Tourists in a first leg CAF Confederations preliminary match on Sunday. ##:M[Read more]##
The emerging powe­rhouse of a striker has been very consistent on the local scene, scoring 12 goals in the first round.
A­nd buoyed by his invitation to the national team, the Black Stars, much will be expected of him as the two-time African champions m­ake another attempt to re-establish their position on the continent after a long drought with continental honours.

When it comes to continental honours a huge valley separates the two, with Kotoko being two times champions while the Nigerians have no continental silverware to show.

A devastating form in the local league has clearly driven Asante Kotoko into high hopes ahead of the game in Nigeria. But it will be foolhardy for Kotoko to be swayed by their local ­performance.

The African terrain is a different ball game altogether and especially playing against a side from Nigeria, one of the powerhouses of the continental soccer, Kotoko better watch out­.

They are called Tourists, but may not be mere tourists in football. ­­The Nigerians were reported to have sent spies to Ghana some days back to spy on Kotoko and could this be a strategy to undo the Porcupine Warriors? ­

What an opportunity for the Porcupine Warriors to prove wrong, critics who argue that their sky-rocketing performance has been because there is no strong opposition locally as traditio­nal performers and arch rivals Hearts of Oak are in disarray.

Chief Executive, Sylvester Asare Owusu,­ predicted before the season that Kotoko will be the team to beat in Ghana and Africa this season.

So far they have ­taken a giant leap in the Premier League and their fans and, indeed, all Ghanaians would be expecting that they translate the championship stuff into Africa.

"We are leaving on Wednesday and we as enplane, I promise that Kotoko will not disgrace the nation," Sylvester told the Graphic Sports in an interview yesterday.­

Even though the Wikki Tourists are not one of the strong forces in the Africa game, they could be deadly if let loose. ­
Coach Bashir Hayford has been a perfectionist of a sort, briliantly blending the experience and fresh legs­ a­vailable to him to form a team so delighful to watch on a good day.

Hayford is bent on using the Confederations Cup to advertise his­ sprakling talents and to send a message out there that the sleeping giant is awake.­

The team's striking department has impressed in the season. Bekoe aside, Kojo Poku, Arhin Duah and Osei Kuffour­ are all deadly in their own right and much will be expected of them on Sunday.

In the middle section of the team, talented players like Akwaffo, Jordan Opoku, Nii Adjei and Francis Coffie should get the adre­nalin flowing to exert the pressure on the Nigerian side.

Story by Kwame Asare Boadu