Ashgold For Crunch Duel In Algiers Sunday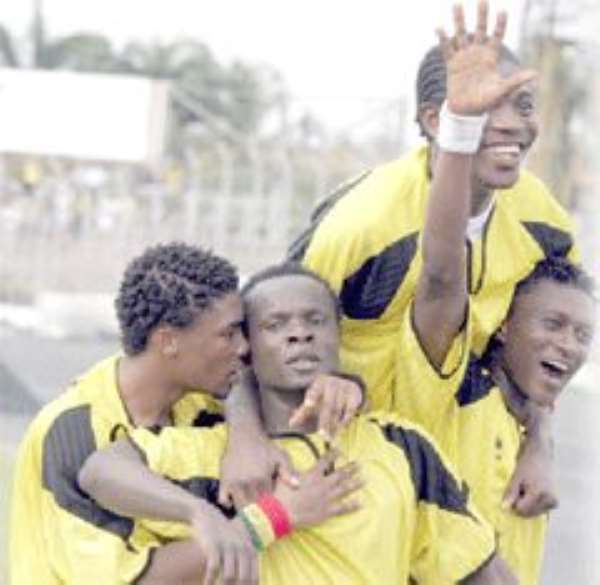 A contingent of Ashantigold leaves Accra tonight for Algiers via Rome ahead of their crunch first leg Champions League duel against Algerian Champions, JS Kabyile, in Algeria on Saturday.
But on the eve of their departure, the miners' campaign seems to have received a severe jolt as insiders have revealed that resources from their main sponsors are slow in coming.

It was a nightmare arranging the travelling schedule of the team to Algeria, a reliable source told the Graphic Sports, and reckoned the difficulties ahead as they prepare for the rest of the games if they make significant progress.

The miners are seriously poised to change their tag as under achievers of the competition since 1997 when they blazed the trail to become the first Ghanaian side to play in the final of the Champions League which was incidentally introduced in that very year.

Ashantigold, then Goldfields, battled Moroccan strong side, Raja Cassablanca, to a tie-breaking penalties in the grande finale only to lose narrowly, and they have since struggled to make an impact on the competition.

Last year the miners made an impressive start to the competition after beating Equitorial Guinea side, Renancimento, 2-1 in Malabo and established their superiority in that duel with a 2-0 home win to move on to the current stage on a 4-1 goal aggregate.

Their campaign was, however, jolted by FAR Rabat of Morocco after a gruelling penalty shoot-out in a chilly night at Rabat.

But that was the year when the miners' talent pool boasted of players like Shaibu Yakubu, Alfred Arthur, Daniel Opare, Saddick Adams, goalkeeper George Owu and veteran defender Joe Hendricks.

It appears that they have overcome the initial malaise created by these departures but Coach David Duncan has fashioned out an effective playing machine from new arrivals like Sumaila Nyaya, Nathaniel Quaye, Joseph Tagoe and Solomon Addy who have blended with old faithfuls like Alex Asamoah, Wakasu Mubarak, Prince Antwi and Fatau Dauda.

They demonstrated their deadliness in the first round of the competition when they smoked out Niger's Sahel SC, beating them 6-1 at home to qualify for the current stage.

JSK have an impressive continental club history and, together with USMA of Algiers, are currently the only fascinating things about Algeria which is fast fading as an African soccer giant.

They once proved too tough for Hearts of Oak and Kumasi Asante Kotoko and look set to give the miners a real battle of their lives.

Story by Andy Quao