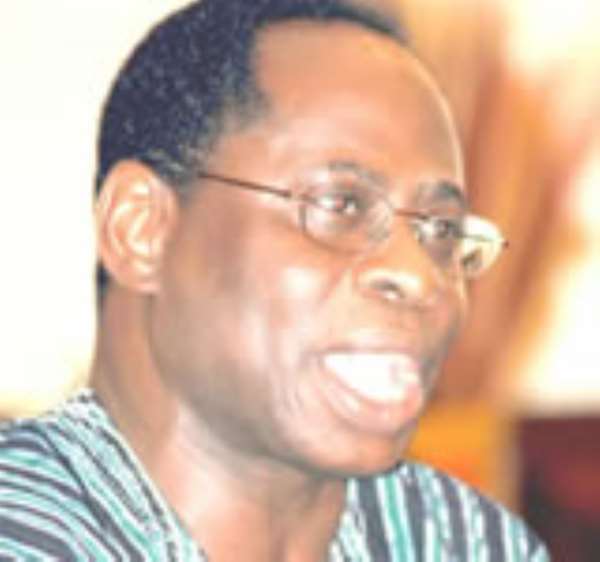 Dr. Kofi Konadu Apraku, former minister of Trade and Industry in the New Patriotic Party (NPP) government, and one of the losing presidential aspirants of the NPP says that Ghana needs a presidential palace to lift her image among the nations of the world.
Dr. Apraku was speaking on Citi FM's Breakfast Show Friday morning, March 14, 2008.
He spoke on a wide range of issues including poverty reduction, government's investments in the water sector, fuel prices, HIPIC and the purchase of a presidential jet by the Kufuor Administration.
Dr. Apraku who is also the Campaigns Director of the NPP said, since the NPP came into power, rural poverty has been reduced to half. He cited the World Development Report 2008 of the World Bank to support the claim. The World Bank's report has said that Ghana has been successful in halving poverty by Millennium Development Goals (MDG) criteria.
While stating that poverty has been halved in Ghana, he agreed that there is extreme poverty in some parts of the county. He said the economic gains of the government are not generally reflected in the country. He said, government is concerned about the situation and is working on that.
On the water situation in the country, he said, government needs bout $250 million to improve the water sector. And yet, he said, the NPP government has done more to improve the water sector than any other government in Ghana.
On the proposed purchase of a Falcon-900 12-seater presidential jet, he claimed there are poorer countries than Ghana that own presidential jets, and therefore, it is necessary for Ghana to acquire a presidential jet to lift the image of the country among the countries of the world.
On the rise in the price of fuel, he said, when they came into power, the Tema Oil Refinery (TOR) was bankrupt and President Kufuor had to go to Nigeria and "literally go on his knees to beg Nigeria to help us", he said.
He claimed the National Democratic Congress (NDC) government could not manage the oil crisis when the price of crude oil on the world market was $35, and inflation was at 40%.
Dr. Apraku said the NPP government was compelled by these circumstances to go HIPIC, the Highly Indebted Poor Country Initiative of the World Bank to be able to resuscitate the economy.
He said the enormous benefits of the HIPIC are obvious for all to see.
He claimed that in comparing the NPP government to the NDC, the NPP is managing the oil situation better, especially now that the world market price for oil has gone up over $100.
By Emmanuel K. Dogbevi