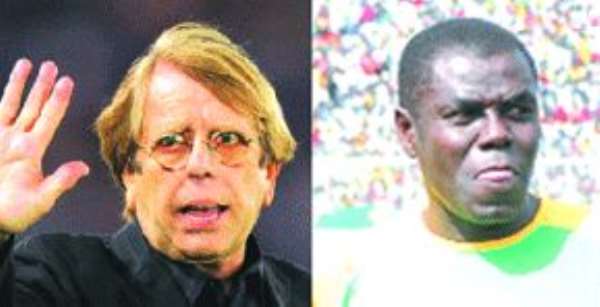 Former Black Stars skipper, Kwasi Appiah, is set to be named as Claude Le Roy's assistant in the senior national team after apparently being chosen from a strong field of equally promising breed of local coaches.
Painstaking investigations by the Graphic Sports indicate a fresh Black Stars stint for the 'gentlemen's gentleman' who returns to the job after deputising for Cecil Jones Attuquayefio in that same capacity, albeit briefly, seven years ago.

The appointment of Appiah, who returned from the UK to watch the Ghana 2008 Nations Cup, is expected to be officially announced early next week.

When contacted last Wednesday, FA President, Kwesi Nyantakyi, would neither confirm nor deny Appiah's appointment, but only said that a new assistant coach for the Black Stars would be named by Tuesday.

He, however, aknowledged that the former Asante Kotoko skipper is among those who had been linked to the vacant job.

He also revealed that the new coach would assist Le Roy alongside French coach, Renard Herve, who doubles as a physical instructor and would also be used by the FA in other capacities.

After the formal outdooring, the soft-spoken coach will undertake his first assignment with the Black Stars when they play Mexico in an international friendly in London on March 26.

Appiah, alias Mayanga, is said to have brushed aside a stiff challenge from former teammate, Frimpong Manso, in a close contest which was climaxed by a thrilling photo-finish.

Other coaches who were in the reckoning during the FA's head-hunting were Kotoko's Bashir Hayford and US-based Robert Sackey who endeared himself to the FA when he scouted for Ratomir Dujkovic in Ghana's maiden World Cup campaign in Germany two years ago.

The new appointment is expected to end weeks of speculation prompted by the reassignment of the Stars' former assistant coach, Sellas Tetteh, to the national U-20 team, Black Satellites, last month.

The FA secretariat was bombarded with a heap of applications for the vacant job days after that change, thus necessitating a press statement from the GFA Secretary, Kofi Nsiah, to stem the tide.
 
Unable to bear the heat any longer, the FA explained that it prefered to head-hunt for a coach to fill that void other than open nominations to the public.

Story by Samuel Ebo Kwaitoo