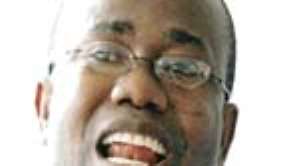 President of the Ghana Football Association (GFA) Kwesi Nyantakyi has asked Ghanaians to let reason prevail over emotions as regards the issue of appointment of the country's coaching staff.
He said the fact that Ghana had lost to Cameroon in the semifinal match of the Africa Cup of Nations was not enough reason to sack Claude Le Roy, head coach of the senior national team, the Black Stars.
The GFA boss, who was speaking at a press conference to announce his outfit's plans for the next two years dubbed 'Agenda 2010', stressed that the competence of Claude Le Roy as a coach was not in doubt, adding that calling for his head in the aftermath of Ghana's failure to lift the Africa Cup trophy on home soil was an expression of the public's disappointment.
"In fact if you had asked me after the Ghana/Cameroon match I would probably have called for him to be sacked too." But "our observations were that the team was not bad; it was the best squad we've had in years, though we failed to win the trophy."
In the opinion of the GFA president the Black Stars were simply unlucky not to have won the 26th Africa Cup of Nations.
He cited the example of Clement Westerhoff who failed to win the Senegal 1992 Africa Cup of Nations with Nigeria, and when the Nigerian FA gave him another chance, the coach led the Super Eagles to beat Zambia in the finals of the Tunisia 1994 tournament.
It would be recalled that Claude Le Roy came under fire following the Black Stars inability to win their fifth Africa Cup of Nations on home soil.
Football experts, both home and abroad had lambasted the French man for failing to win the cup although he had at his disposal world class players such as Michael Essien, Sulley Muntari and Quincy Owusu-Abeyie.
Manchester United Boss, Alex Ferguson had described Ghana as having suffered from 'technical ineptitude' while former Chelsea Manager, Jose Mourinho described the situation as 'tactical blindness'.
At a point, Coach Le Roy indicated, albeit subtly that he was not expecting the GFA to extend his contract.
It therefore came as no surprise when Mohammed Polo, former Hearts of Oak star, who was known as the Dribbling Magician during his playing days, became furious when the French man's contract was extended.
He questioned why the GFA had signed another two-year contract "with a man who has failed us".
By Mohammed Muniru Kassim