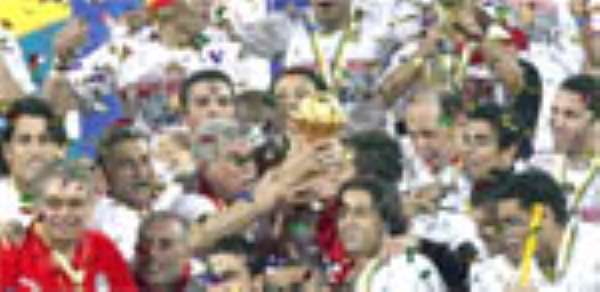 There couldn't have been a better tribute to the potential of the African game than the exploits of Egypt which, using local coaches and mainly home-based players, won the Ghana 2008 Africa Cup of Nations with relative ease.
At the last Africa Cup of Nations held in Ghana, only four of the 12 national teams - Sudan, Angola, Zambia and Egypt - paraded local coaches. That statistics is almost certain to improve when the championship comes round in two years' time, and is hosted by Angola. Already, Nigeria, where the demand for foreign coaches used to be a recurring decimal, is on the verge of hiring a local coach. The reason is obvious: Ghana 2008, as the 26th MTN Africa Cup of Nations is otherwise known, demystified foreign coaches and underlined the value of African coaches. It even did more, proving beyond doubt the quality of African footballers playing in Africa.
Defending champions Egypt, who returned to Cairo with the coveted trophy, achieved the feat with mainly home-based players handled by local coaches. This was against the prediction of pundits and analysts, who had tipped star-studded teams such as Ivory Coast, Nigeria, Ghana and Cameroon to win the championship. In addition, Egypt also dominated the tournament's Best XI with five players: Essam El Hadary, Wael Gomaa, Hosny Abd Rabou, Mohamed Aboutreika, and Amr Zaky.
Shehata's success, according to Fred Osam Doudu, the Ghanaian coach who led the Black Stars to victory in 1978, should be enough proof that indigenous coaches are not inferior to their foreign counterparts.
Unlike most of the other teams in Ghana 2008 with only foreign-based players and expatriate coaches, the bulk of the Egyptian team ply their trade in their local league, the exceptions being Said Ibrahim, Abdalla Zidan, Shawky Mohammed and Hussan Ahmed who play professional football in Europe. Interestingly, while most of the other teams went abroad for pre-tournament preparations, Egypt had theirs at home. Thus, as Ghanaian journalist Earl Samuels put it, "The victory of Egypt is home-made and it is good for African football."
In the circumstances, the presence of globally celebrated stars like Cameroon's Samuel Eto'o, Ghana's Michael Essien, Ivory Coast's Didier Drogba and Nigeria's Nwankwo Kanu did not matter at all to the Egyptians, who displayed supreme confidence in every game. They did not only whip the dreaded Ivory Coast 4-1 in the semifinals, but also beat Cameroon twice-in their opening group match and in the final match.
In contrast to Egypt's sparkling outing, highly favoured Cameroon managed to come second, Ghana third and Ivory Coast fourth. As for Nigeria, the Super Eagles floundered so badly that perplexed fans have resorted to calling them the Super Chickens. Led by Berti Vogts, a supposedly world class coach from Germany hired at an outrageous N6 million ($48,000) monthly pay in February last year, Nigeria crashed out 0-1 to ten-man Ghana at the quarterfinal stage, making it their worst display in 25 years.
Culled from Africatoday