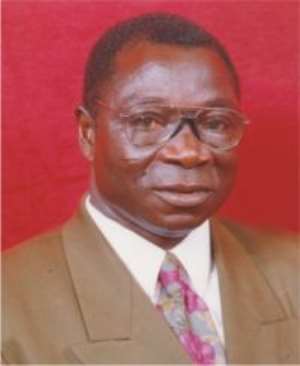 The Minister for Education, Science and Sports, Prof Dominic Fobih, yesterday told Parliament that the Ghana Football Association received a total sum of GH¢10, 514, 802.41 for Ghana's participation in the 2006 Germany World Cup.
He said out of the amount, the world football governing body, Federation of International Football Association, paid GH¢5,403,041.87, while Gold Fields Ghana Limited donated GH¢456,820.00 and the Government of Ghana spent GH¢3,522,043.20.
The Minister disclosed this in response to a question by Haruna Iddrisu (NDC, Tamale South) during Question Time on the floor of the House.
Mr Iddrisu wanted to know "how much money was received from Government, individuals and corporate sources for the Black Stars" participation in the 2006 Germany World Cup final and how much monies were disbursed".
He said other contributions from international friendlies yielded GH¢241,150.00, while external contributions amounting to GH¢100,100.00 and GH¢79,164,733.68 was accrued from local sponsors.
These monies, according to him, included the FIFA Prize Money of $4.9 million (GH¢4,549,807.99) which was paid after the tournament. The GFA also received an amount of $937,620 (GH¢853,234.20) from FIFA prior to the tournament.
Prof Dominic Fobih further told the House that out of GH¢10, 514, 802.41, the GFA spent total amount of GH¢6,592,997.10 on bonuses, appearances fees, per diem allowances, scouting, medicals, press relations, hotel bills among other expenses.
He said out of the amount that was earned, some funds of about GH¢8,997,465.93 were also released to refurbish the Ghanaman Soccer Centre at Prampram in the Greater Accra Region, the purchase of new vehicles and expenditure on the national soccer teams — Black Meteors, Queens, Satellites, Starlets, Princesses and the Under 14 Girls squad.
Some of the amount was also paid as allowances for the Black Stars Assistant coach, house rent, hotel bills and furniture for the then Stars coach, Ratomir Dujkovich. Other expenses included purchase of a power generating set,
The Minister, however, told the House that a total amount of $1,667,402.73 (GH¢1,517,336.48) which was not utilized, was lodged into the GFA account.
By Cynthia Boakye