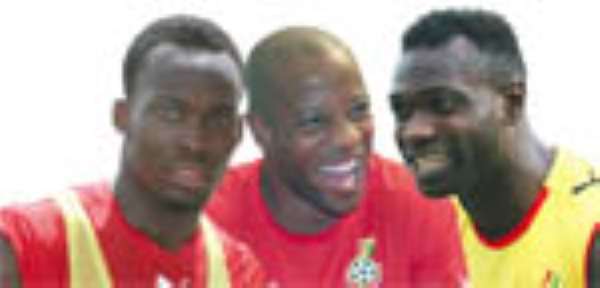 The 2008 CAF Africa Cup of Nations has proven a stunning showcase for some of the best collective and individual talents the Mother Continent has to offer. From start to finish and from Angola to Zambia, the soccer fiesta lived every bit up to its billing.
Samuel Eto'o of Cameroon slalomed and swiveled his way to the all-time Africa Cup of Nations scoring title, Ivorian Didier Drogba offered glimpses of his stomping, muscular genius and a whole host of the title-winning Egyptians like Hosni Abd Rabou, Mohamed Aboutrika and striker Amr Zaky impressed in every conceivable way.
But the question remains: Who has been the best individual performer at the CAF Africa Cup of Nations Ghana 2008? The Angolan Manucho no doubt justified the talent Manchester United boss Sir Alex Ferguson sees in him with outrageous displays.
Recently crowned African Player of the Year Frederic Kanoute of Mali also made his mark, while loads of others stood up to be counted.
FIFA.com posed the question: Which African footballer inspired the most at Ghana 2008. Below are the responses:
Posted by mgfatouh, Egypt
Many players impressed at the tournament. Manucho, Essien, Drogba, Aboutrika, Van Heerden and Muntari were some of the players that shone brightly.
Posted by dr. Lonely, Egypt:
From my personal view, I think Michael Essien deserves it for he played both as a central defender, attacking midfielder and also a defending midfielder. This shows the amount of talent hidden in him. David, South Africa
Posted by tomapelle, USA:
No doubt, John Mensah, Essien, Muntari, Annan(new sensation, watch out 4 him. da next big star), Kalou, Aboutreika, Drogba, Feindouno, Eto'o, Kameni, Agogo, Yaya Toure, Zhaky, abd Rabu,
Posted by kobefhs3, USA
By far, Ghana 2008 was the most impressive and exciting tournament Africa has seen. Having said that, the tournament has produced so many great players but I think the one player that has impressed me is a little magician from Egypt named Hosi Abd Rabou. Defensively and offensively he has shown great character on the field. His ball control, tempo, and shooting skills surpassed every other player in the tournament. That boy should be playing for a big club in Europe
Posted by amraly, Egypt
All Egyptian players are stars, but I think Amro Zaki is the best. I like Muntari too
Posted by hossam68, Egypt
Without a shadow of doubt the Egyptian trio of Abou treika, Hosny Abd Rabu & Essam El Hadary are the super stars of the whole tournament.
Posted by CassFerr, Brazil
Well done Ghana for an excellent organization of the tournament. The best player was ALEX SONG of Cameroon. When he stopped, Cameroon lost their way completely. Tanya, Malta
Posted by LooL25, Egypt
Evidently, the best man was Aboutrika
Posted by am1811, Egypt
You can not choose only one player. One can say that the Pharaohs are the best, and If I have to give it to the player who inspired me it will be MOHAMED ABO TRIKA.
Posted by solimany, Egypt
Essam El-Hadary ( The Giant Of Africa )
Posted by Renault, Egypt
Ghana 2008 has seen some fantastic players from every team there. But I think the top 3 would be Bronze Ball:
Manucho(Angola). Angola are starting to become one of the giants of African football, despite having few players in Europe. But this individual was signed by Man United and he was so good. And hasn't he shown what got him to a club like that? After United lost to City in the recent Manchester derby, Fergie may have been thinking what the score would have been if he hadn't sent him out on loan to Panathanaikos. Silver Ball: Samuel Eto'o: An obvious choice. I mean he is only 26 and he is the ANC's all-time leading goalscorer. On fire in the group stages, his form dipped a little in the knockout stages, but was dangerous in every game he played.
Golden Ball: Mohammed Aboutraika. Hassan Shehata, why is this man not playing in Europe? And he should be playing for a big club too. He is such a danger to defences, he can score game-changing goals out of nothing, he is incredible
Posted by adorer, Qatar
I am a Cameroonian, and there is a saying in my hometown that when someone beats you, carry his bag while bowing. Egypt has been simply outstanding and fantastic in this nations cup. They deserve to be African Champions. As a good advice to this bright team, they should go beyond the dreams of dominating Africa in club and country competition and start thinking the world. I am talking about the world cup, and the confederations cup. In the aforementioned competitions they have always fallen short of ideas. Hopefully this team with its Argentine style of play, can go beyond their past...after all in soccer they say the past was an enemy the future a friend. Good luck to you, the Pharaohs of Egypt. My best player in this nations cup was no doubt Amr Zaky.
Posted by tmafey, Cameroon, Abo Treika is the best player in Ghana 2008
Posted by semsem2088, Egypt Sulley Muntari & Hosny Abd Rabbo......& i think if Ahmed Hassan played 1st 4 matches in the championship, he would've been nominated for best player...he played a great match against Cameroun & i'm still fascinated about his fabulous chip pass to Moeteeb in the 1st half..!!!!!!
Posted by arabspirit, Egypt, Abou Treka, Hosni Abdrabo, Ahmad Fathi, Essam Elhadary from Egypt. Abd Elkader Keita from Cote d'Ivoire, Agogo from Ghana, Manucho from Angola.