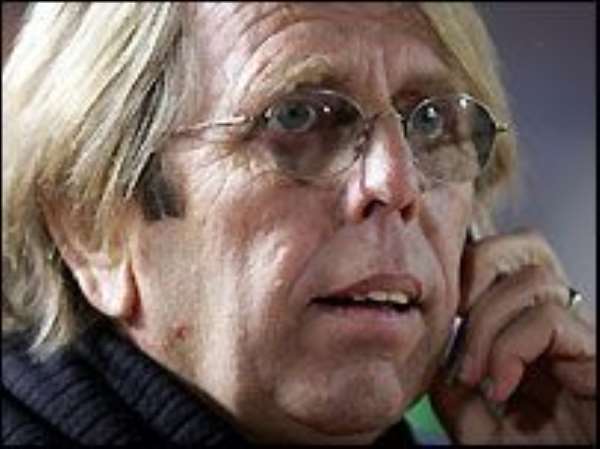 A cheerless Claude Le Roy says he remains proud of his Black Stars team despite Ghana's dashed hopes of reaching the finals of the African Cup of Nations.
Ghana's hopes of a record-equaling fifth Nations Cup title crumbled at the semi-final stage of the tournament when Cameroon pipped the host nation to a lone goal victory at the Ohene Djan Stadium on Thursday.
Le Roy watched from the sidelines as an injury hit Ghana team dominated play and gave it every shot but failed to score for the first time in the tournament.
"I have never been sad like this before because we failed to win this game to advance to the finals of the competition. This team were so close, very close to reaching the final. They fought for everything and I proud of them."
"It's a terrible deception to lose this game. I can understand how sad the people of Ghana are tonight.
"I don't want to find excuses for the defeat, because we were all determined to reach the finals and win. Everybody played a part. It's unfortunate our dreams did not materialize today," the Ghana coach said.
Though Ghana played for that important win, events leading to kick off conspired against the Le Roy's team plans.
With regular captain, John Mensah suspended for the game, Michael Essien had to be deployed in defence. But the problems did not end there.
Asamoah Gyan was ruled out of selection a day before Thursday's game after failing to recover from a thigh injury. And the injury situation in the Ghana camp was further worsened when Laryea Kingston walked off the pitch during warm up for the match with a foot problem.
"It was a difficult time for us. The problem of today(match day), I think is the red card of John Mensah and the injury of the two key players, Laryea Kingston and Asamoah Gyan," Claude Le Roy told the media after the game.
"Mensah's absence affected us. We could not rely on Shilla Illiasu because he had just recovered and I could not risk him for such a game.
"Few minutes before the game, we lost Laryea Kingston through injury and I had to make a lot of adjustments to my team.
"We tried to find new solutions to new problems at all times, but we were not successful," Le Roy blurted.