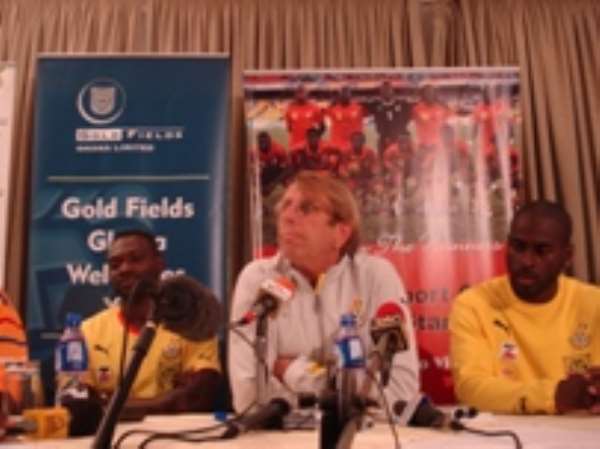 Ghana coach Claude Le Roy says midfielder Anthony Annan is not guaranteed an a starting line-up slot for the quarter-final clash against Nigeria on Sunday.
The IK Start player was impressive as a defensive midfielder against Morocco on Monday and the Frenchman scored him the full marks for his output.
''Anthony Annan was not on the pitch because of the suspension of Laryea Kingson but because he is a good player.
He was on the pitch because for me,he was a great player.He played a lot of games and the first time i saw him was Tema pitch with Hearts of Oak and i was so impressed by his performance,''Le Roy said
''Putting Anthony Annan means he was a superb for the midfield,he can pass the ball one-touch with high quality in midfield.
''It was a tactical decision because i want him to let more room to Micheal(Essien).If Micheal was playing as the sweeper of the midfield he was far from goal.For me he is the best sweeper in the world.''
Le Roy is still keeping his cards to his chest and is tight-lipped on his starting line-up.
''On the day i will decide which team to play in the quarter-final.The first people who will know that are my players and nobody else.
''Like i did everywhere,never in my life has a player know his position.We have to consider certain things in terms of our opponents before naming our squad.''