Egypt Qualify For Quarterfinals Of Ghana 2008 Tournament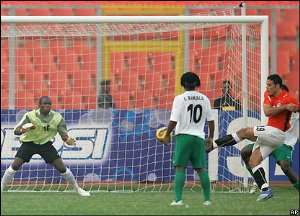 Egyptian player (in red) on his way to score a goal against Zambia   The Pharaohs of Egypt held the Chipolopolo of Zambia to a pulsating 1-1 draw in the last 'Group C' match played at the Baba Yara Sports Stadium in Kumasi yesterday to qualify for the quarterfinals of the 26th MTN Africa Cup of Nations tournament.
The defending champions, Egypt found the slippery and 'strike-happy' Zambians a hard nut to crack, as they had to sweat hard to contain them. Egypt kicked off first but it was the Zambians, who launched ferocious attacks with the Pharaohs recoiling into their shells, forcing three successive corner-kicks in a three-minute spell that failed to earn a goal.
The Egyptians shot into the lead against the run of play in the 14th minute when speedster Hasan Zaky Mansour latched onto a pass to hit the back of the net with a non-drop shot. Zambia launched a series of attacks as the Egyptians played on the defensive but despite earning three corner-kicks, they could not level up.
In the 20th minute, an over-lapping Zambian defender, Jacob Mulenga shot wide before a gaping net. The Egyptians counter-attacked in the 28th minute but were denied a goal when the Zambian goalkeeper Kennedy Mwene brought off a brilliant save.
From the 30th minute, the rampaging Zambians kept creating holes in the Egyptian defence but seemed goal-shy as they let their opponents off the hook.
The Malian referee, Coulibaly Koman flashed the yellow card to two Zambian players, Felix Katongo and Isaac Chansa in the 40th and 43rd minutes respectively, for hard-tackles.
The Zambian maintained their composure on resumption of the second half as they forced their opponents into defensive play with the Egyptians struggling to keep pace with the game.
The defending champions made occasional breakthroughs but were held in check by the ironclad Zambian defence. In the 88th minute James Chamango of Zambia missed the target as the Egyptian defence was eclipsed.
The Zambians sustained the pressure with Egypt recoiling into their shells that earned the equalizer in the 89th minute for Zambia with skipper Christopher Katongo hitting the back of the net with a low shot.
Katongo of Zambia won the MTN Man-of-the-Match award while Samsung fair-play player of the match was won by Said Abdel Wahed Moawad of Egypt.