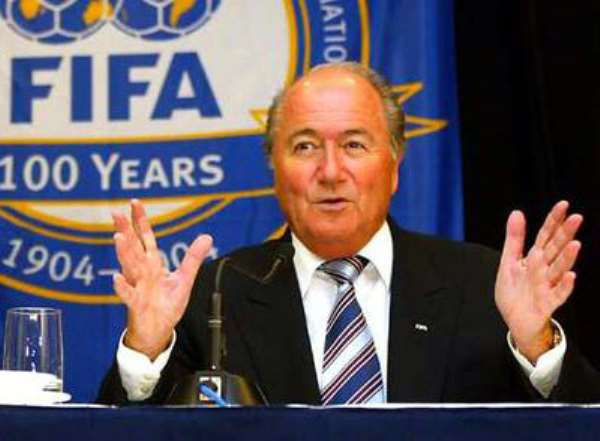 Mr Joseph Sepp Blatter, FIFA President   Mr Joseph Sepp Blatter, President of the world's football governing body, FIFA, yesterday gave Ghana high marks for the excellent facilities it has provided for the 26th edition of the prestigious Confederation of African Cup (CAF) Tournament, which kicks off on Sunday.
He said with its four state-of-the-art stadiums, the country was now ready for international competitions. Mr Blatter and a powerful delegation of football personalities, who are in the country to attend the CAF's general assembly ahead of the 'Ghana 2008' soccer fiesta and to inaugurate three FIFA funded projects were at the Castle, Osu, to pay a courtesy call on President John Agyekum Kufuor.
Among them were the President of UEFA, Mr Michel Platini and CAF President Issa Hayatou. The FIFA Boss recognised the Continent's great contribution to the game by way of football talents and said one day in history, Africa would be rewarded.
He again made reference to the World Cup Tournament to be hosted in South Africa, two years away and said they would make sure that it would indeed be 'an African World Cup.'
In line with this, he announced that CAF President Hayatou had been nominated and designated as the Chairman of the Organising Committee. President Kufuor said Ghana was encouraged by its selection to host the Nations Competition to work around the clock to put Africa on the soccer world map.
'We felt challenged to prove that we could do it, the acknowledgement by FIFA and others should make every Ghanaian feel proud.' He observed that football was such a powerful tool for drawing people together and bonding them in friendship that, 'we should all cherish it.'
The modern facilities put in place by the Government should provide an opportunity for the youth in the country to become an important part of the global game, he said.
Earlier, Mr Platini had said they were in the country to reinforce the friendship between Africa and Europe.
He described Africa as 'a great Continent of football' and added, 'Thank you for the great players.' On his part, Mr Hayatou said he was satisfied and pleased that Ghana was indeed ready for a successful tournament. A Technical Centre at Prampram, the GFA Head Office and an Artificial Turf in Tema, financed by FIFA at a total cost of about 1.2 million dollars are the projects to be inaugurated by Mr Blatter.