President Salutes Ghana 2008 Teams and Officials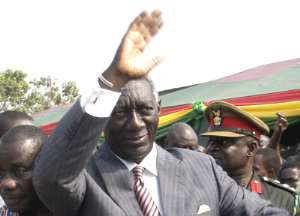 President Kufuor welcomes Ghana 2008 Teams and Official in advance
  The President of the Republic of Ghana and Chairman of African Union (AU), H.E. John Agyekum Kufuor, has sent his hearty compliments and goodwill message to all the 16 gallant participating countries in Ghana 2008 tournament.
GHANA 2008 is the 26th MTN Africa Cup of Nations, scheduled to kick off on Sunday, 20th January, 2008 in the sparking capital city of Accra, Ghana. It will be the first in the first month of the year and the first in the 21st century on the African continent.
Ahead of Sunday's memorable opening ceremony, therefore, President Kufuor, who is the hosting Commander-in-Chief of the continent's most prestigious tournament, wishes to welcome players, match officials, hundreds of enthusiastic soccer fans in Ghana and millions globally, as well as the numerous distinguished personalities trooping to Ghana to witness the historic football fiesta.
A Statement issued from the office of the President and signed by the Press Secretary to the President and Presidential Spokesman, Mr Andrew Awuni, says the President is delighted that Ghana is the destination of the continent's top football event, thus, her determination to offer the best in terms of facilities for the tournament and a high display of the legendary Ghanaian hospitality to all.
'To the host team - the Black Stars - the President said Ghana 2008 presents yet another opportunity for them to prove to the rest of the world their enviable performance capped by their recent impressive 2006 FIFA World Cup outing in Germany.'
The statement concluded that President Kufuor has no doubt that the Ghanaian national team has what it takes to lift the trophy for the fifth time to make the nation proud.