Prez Kufuor Greets Ghana 2008 Teams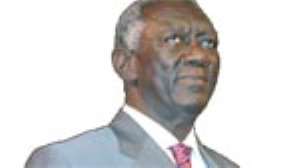 Ahead of Sunday's official opening of the 26th MTN Africa Cup of Nations, host President and AU Chairman, H.E. J. A. Kufuor has sent his compliments to the 16 participating countries, wishing them good luck in the 3-week tournament.
A press release signed by Andrew Awuni, Press Secretary to the President said: "He particularly welcomes players, officials, the media, football fans, and the numerous distinguished personalities visiting Ghana on this occasion, which is a memorable experience throughout the period of their stay."
The President said Ghana is delighted to be the destination for the continent's top football event, "thus, her determination to offer the best in terms of facilities for the tournament and a high display of the legendary Ghanaian hospitality to all".
To the host team - the Black Stars - the President noted that Ghana 2008 presents yet another opportunity for them to prove to the rest of the world their enviable performance capped by their recent impressive 2006 FIFA World Cup outing in Germany.
He said he has no doubt that they have what it takes to lift the trophy for the fifth time to do the nation proud.By Kenneth Yankah