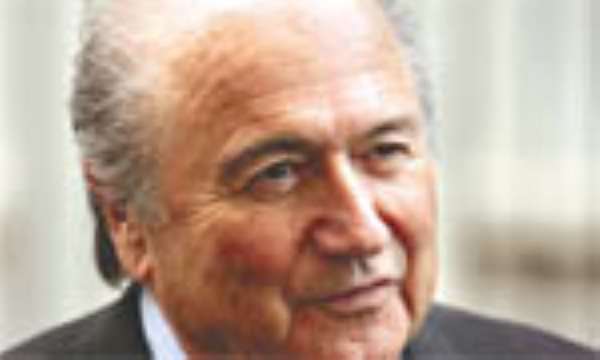 Officials of the Ghana Football Association (GFA), in collaboration with Mr. Sampson J. Kablan, Federation International de Football Association (FIFA) Officer in charge of West Africa, are expecting the President of FIFA, Joseph Sepp Blatter in the country to unveil some development projects which were financed by the world football governing body.
Speaking to the media at the GFA Secretariat last Tuesday, Mr. Emmanual Gyimah, Deputy General Secretary, Administration, of the FA said his outfit acquired some properties for the development of football through FIFA some years ago and Blatter will be in the country to commission them. He will as well take part in the Confederation of African Football (CAF) General Assembly from 17 to 18 January 2008 and then the opening ceremony of the 26th MTN Africa Cup of Nations.
According to Mr. Gyimah, boss of the world soccer governing body will on Saturday January 19, 2008 commission three FIFA Gold Projects namely the technical centre at Prampram (Ghanaman Soccer Centre of Excellence), the Artificial Turf at the Tema Stadium and the newly constructed head office of the GFA in Accra.
The FIFA delegation will also include Jerome Valcke, General Secretary; Pascal Torres, Director of Development Programs; Pekka Odriozola, Communications Division and Diallo Souleymane, FIFA DO Assistant.
Others from the European Union Football Association (UEFA) are Michel Platini, President of UEFA; David Taylor, General Secretary and Kevin Lamour, Vice-President.
The CAF Delegation include Issa Hayatou, CAF President and Mustapha Fahmy his General Secretary.
Cost of the three projects is estimated at $1.3 million and expected to rise to over $2.0 million when a gymnasium at the FA headquarters in Accra and a clinic at Prampram are eventually built. By Pierre Toto