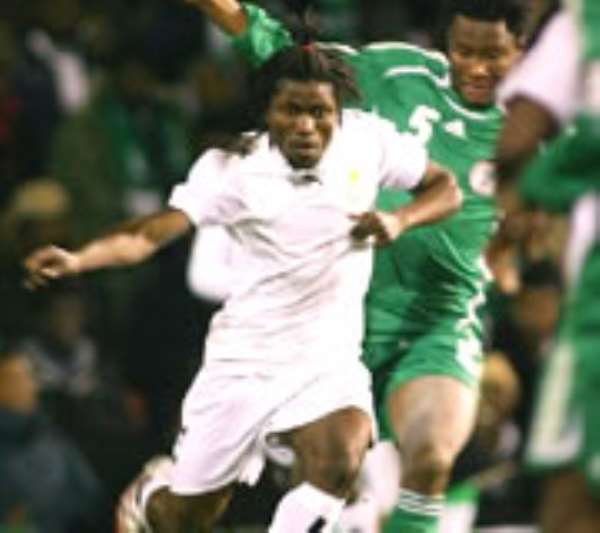 On a day the Black Stars squad currently in camp in Saudi Arabia found reason to jubilate over FIFA's favourable decision that Ghanaian international Quincy Owusu Abayie was qualified to play for the side, two midfielders resorted to trade punches.
Joy Sports sources say at training, youngster Andre Ayew (Olympique Marseille, France), accused colleague Laryea Kingston (Hearts, Scotland), of ill intentions from what appeared a dangerous tackle.
His immediate remedy was to punch his way to safety, a recourse that readily met Laryea's resistance until other colleagues quelled the feud and promptings for calm and sportsmanship.
Then came the good news; that Owusu Abayie could play for Ghana after what appeared a protracted tug-of-war which saw the GFA cautiously holding on to naming the nation's squad for Ghana 2008.
Coach Claude Le Roy, excited at the options in attack that Quincy brings to his calculations, walked gracefully to the team that had assembled to train for Thursday evening and broke the news.
Michael Essien then led the rest to initiate the newcomer into the team with ponding; splashing water on the newest member of the team.
President of the Ghana Football Association, Kwesi Nyantakyi said Quincy's eligibility was a piece of good news.
"The excitement before Ghana's afternoon training session was a great one. Everyone was happy for Quincy."
"He had expressed his desire to play for Ghana, a decision everyone must now respect. I hope he enjoys himself playing for the Black Stars.
"I wish him the very best of luck and as he finds himself in the midst of some great players and good managers, I pray he shares in the good moments now and the coming days," the FA President told www.ghanafa.org.