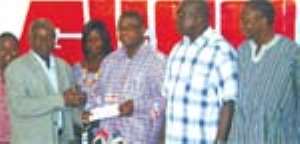 With about 20 days for the commencement of the Ghana 2008 tournament, Gemini Life Insurance Company (GLICO) has demonstrated its love and support to the senior national soccer team, the Black Stars.
GLICO, believing that it has to motivate and encourage the Black Stars to play with passion to entertain their teeming fans as well as annex the trophy for the fifth time, has since 1992 supported the national team.
This was emphasised by Emmanuel Edor, Marketing Manager of GLICO when his outfit gave a 24-hour group personal accident insurance cover to the tune of GH¢200,000 (¢2 billion) during the Nation's Cup. The company will widen the cover to 6 months should the Black Stars win the cup.
He observed that GLICO will reward the team with another cash prize of GH¢20,000 in the following break-down: GH¢400 for every winning goal scored in preliminaries, GH¢600 for each quarter-final winning goal, GH¢800 for semi-final winning goal and GH¢1,000 for finals winning goal.
Mr Edor explained that the Black Stars stand to benefit from additional bonus of GH¢1,000 if they qualify for the second round; GH¢2,000 for quarter-final, and GH¢3,000 for semi-final and grand finale.
GLICO also made a cash donation of GH¢5,000 to help in the team's preparation for the tournament.
Kofi Nsiah, General Secretary of Ghana Football Association (GFA) who stood in for his president, Kwesi Nyantakyi, thanked the company for the gesture.
Kwame Essah, Local Organising Committee Deputy Chief Operating Officer (Marketing), who deputized for his boss, Rex Danquah, added that the country is ready to host the African soccer fiesta. By Kenneth Yankah