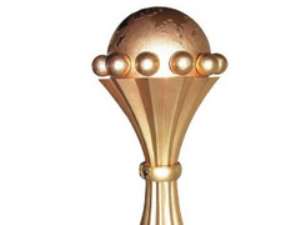 The Local Organizing Committee (LOC) of the 26th MTN African Cup of Nations, Ghana 2008 has reached an agreement with all six local television stations to have equal live telecast for the competition commencing on January 20.
CAN_Cup
Magnus Rex Danquah, Chief Operation Officer (COO) of the LOC says the agreement means the six- Ghana Television, Metropolitan Television, TV 3 Network, TV Africa, Net 2 Television and Skyy TV would all in principle syndicate sponsorship and advertisement from one source for and on behalf of the LOC and all the broadcasting houses.
The right for the live-feed production, which in Ghana exclusively belongs to the LOC, is being extended to all television companies and radio stations on common parameters to guarantee a share of the coverage revenue for all companies involved in the syndication.
He said this means that arrangements made separately with any of the six stations by corporate bodies in relation to publicity on the platform of the coverage of the tourney must be refashioned to reflect the current posture that ensures a simultaneous appearance for sponsors and advertisers on all the stations.
The Chief Operation Officer encouraged sponsors to take advantage of the total nationwide coverage ensured by the involvement of all television networks through the marketing department of the LOC and other accredited agents.