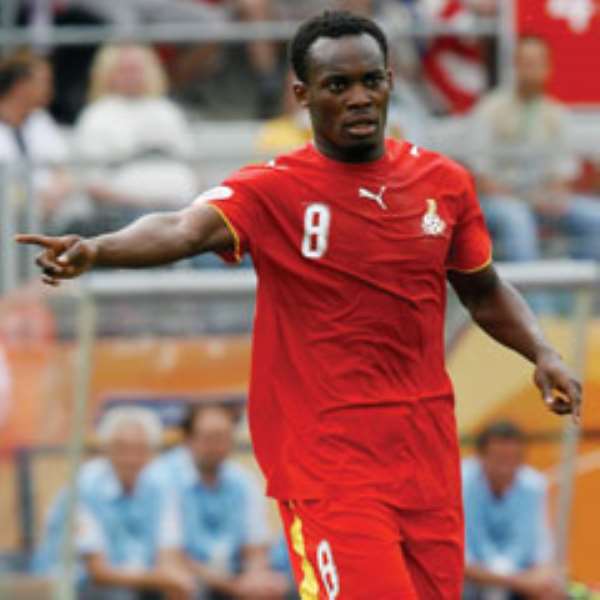 MTN/CAF African Cup of Nations competition is the biggest in the calendar of the African football, and the players concerned have been talking about the chances of the countries before the start of hostilities next month.
Chelsea player, Michael Essien, had a time out to talk about Ghana's chances of winning the competition, his absence from the competition's last edition and the thorny issue over the timing of the tournament.
Ghana are expected to host other fifteen African countries on home soil, which means the Black Stars would be enjoying much support and, in spite of that, football pundits said the nation would play all their matches under severe pressure.
"Yes. I think the pressure would be on but we'll do our best to at least achieve something for the nation because they have been looking forward to it for so many years. It's going to be tough but let's see what'll happen at the end," Essien said.
Essien was in fine form when he missed out of the last edition of the Cup of Nations. The Chelsea player is now determined to make up with the 2008 edition in Ghana.
"The last time I missed out because of injury. This time round, I pray there wouldn't be any injuries so that I can represent my country. I'm looking forward to it and as a player I'm going to give my best for the team and the nation," Essien promised.
There's been talk in Europe, especially in the English Premiership, about the timing of the African Cup of Nations. Chelsea's coach, Avram Grant, has also called on CAF to reschedule the Cup of Nations to June instead of the January-February calendar, but Essien said the issue has become unbearable topic among concerned African players.
"Well, it's been something really tough for the clubs. If CAF can change it, it would help us and help everybody. I think before they started the Cup of Nations, not so many African players played in Europe but now, I can say there are more players playing in Europe, so if they can change the time, it would help us and the teams as well."
Top African player colleagues had called on CAF, UEFA and FIFA to have a re-think about the schedule of the Cup of Nations but nothing has been done on this burning issue.
"I don't know but, as I said, if they can help solve this problem it would be good for us. January-February is when the league open. You have to leave and come and help your country. It's good to play for your country but if they (CAF) can help to change that, it will be good for us (players)."
On Ghana's chances at the African Cup of Nations, he said:
"Well, we are hosting it and we have to do everything we can to win the trophy. I don't remember the last time we won it, so if we can win this time, it would be a good thing for us," he offered.
On his inability to win the last African Player of the Year award, he said: "To be honest, I don't think about this award. All I want is to do my best for my country and my club. The African Best Player does not come to mind," he revealed.
Essien at the moment is one of the dependable players at the Stamford Bridge. So many clubs are offering the Ghanaian player lucrative carrots.
"I don't like to talk about my career, but I am happy at Chelsea."
But reminded that Ghanaians are more interested in what happens to Black Stars at the Nations Cup, Essien said he was not ready to give them an absolute answer.
"Well, I have no message but I'll be here to represent my country. The last time I missed out, some people got me wrong. They said I didn't want to play for my country. That's not true. I committed myself to my country since I was 17 and, yes, I missed out because of injury but, this time round, I hope and pray to God there will be no more injuries so I can give my best to the country," Essien hopes.