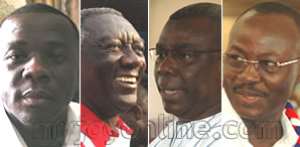 An Activist of the New Patriotic Party (NPP) has advised the party members to disabuse their minds that, the success of the National Congress was an indication of a total victory for the party in the 2008 general elections.

Mr. Clement Aboagye argued that, the fact that, a seasoned and well-tested Politician and Diplomat was elected at the congress was not a fore-gone conclusion for the party's victory in 2008.

Commenting on the NPP's Congress held in Accra last Saturday, Mr. Aboagye who is resident in the U.K noted that, the results of the 2004 general elections when compared with 2000 indicated a tough task ahead of the party in 2008.

"General elections held during a change of leadership are usually difficult for the incumbent", he said.
Mr. Aboagye therefore suggested to the party hierarchy to mobilize available resources with effective organization machinery to win the sympathy of the large floating voters who, he described as "the only target group to help win elections."

The victory of the party, he stressed, greatly depended on the willingness of the other Presidential aspirants to lend their unflinching support to the Flag bearer during the political campaign.

Mr. Aboagye was of the view that, "success rests on hard work, perseverance, tolerance and all-inclusiveness" and called for the involvement of all party members in the campaign.

He congratulated Nana Addo Dankwa Akuffo-Addo on his election as the flag bearer of the party and advised him to be tolerant and friendly to win the confidence of the party faithful.