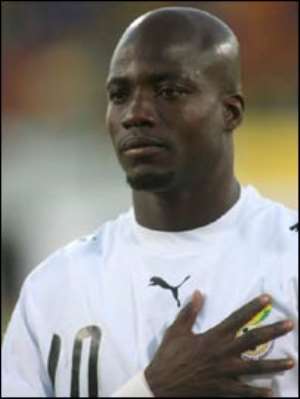 Nations Cup hosts Ghana say they will give captain Stephen Appiah as long as possible to prove his fitness for the tournament.
The player has travelled to Italy to consult doctors, after what his website called "complications" from his recent injury.
The Fenerbahce star had returned to training, but has now been forced to seek further medical advice.
He told his website he was determined to play in the tournament if he could.
"I want my fellow countrymen and women to know I will do all it takes to be available for Ghana when the African Cup of Nations starts," he said.
"I really want to help my country win the trophy on 10th February."
Ghana FA Vice-President Fred Pappoe told the BBC that the skipper was being given as much time as was possible.
"We don't want to put a timeline to questions regarding Stephen Appiah's fitness," he said.
"He doesn't deserve that kind of additional psychological stress.
"The deadline we have is the Caf deadline, where we have to send the names of our players by the 10th of January.
"Effectively we are prepared to wait as long as we can to make sure our captain gets properly cleared as a player who is fit to take part in...the Nations Cup."
And he insisted that no contingency plans had been made for Appiah's possible absence.
"We are not thinking about going in to the Nations Cup with Stephen absent," he told the BBC.