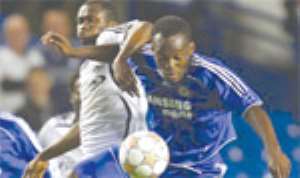 Chelsea and Ghana International star, Michael Essien has pleaded with his club to consider signing on Gideon Baah, winner of the MTN/Metro TV Sports Academy Reality show into the Chelsea Football Academy.
Information gathered by the GNA Sports said Essien, while interacting with journalists in London said that he believes Baah could develop his talents to become a 'world-class' asset for Chelsea and Ghana.
Essien said he had such high hopes for Baah that he has already introduced him, the midfielder to his team-mates. Baah, 16, beat 32,000 applicants on Ghanaian TV to earn a two-week trial with the Chelsea club.
Within his two-week trial, Baah was privileged to play a full 90 minutes match with a Chelsea reserve team alongside greats like Michael Ballack.
Essien said, "Everybody is happy with how Baah played in the first week with the Academy.
"I have monitored his performance and think he is capable of fitting into the Academy and progress accordingly.
"I am confident if he is given a contract he'll develop into a world class player for Chelsea and can also develop to help my country."
Meanwhile news filtering into the country indicates that Chelsea's scouts are in town to monitor Baah's performance at his new Club, Zaytuna FC to determine whether to sign him on or not.