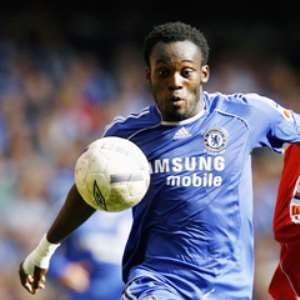 Michael Essien has promised Chelsea a special Christmas - to make up for going to the African Nations Cup.
Chelsea boss Avram Grant will lose FOUR big names for up to a month for the African Nations Cup from early January.
Ghana midfielder Essien, Ivory Coast pair Didier Drogba and Salomon Kalou and Nigeria's Jon Obi Mikel are all going to the tournament.
Arsenal, meanwhile, will lose Kolo Toure and Emmanuel Eboue but title rivals Manchester United don't have any players going to Ghana for the four-week tournament.
Portsmouth boss Harry Redknapp will be without several key players and that could wreck his push for a UEFA Cup spot.
It will once again cause a major talking point in the Premier League and spark more calls for a worldwide football calendar.
But players like Essien and Drogba are passionate about their right to play for their countries.
Essien said: "I want to do well for my club before I go away and then the other players can do their job while I'm gone.
"I will keep working hard and do something special before I leave to help the club get the right results, as all the players will.
"When I was suspended, it was difficult to sit and watch team-mates play.
"But it's something I've gone through and I'm glad it's over and now I'll be doing my best over Christmas.
"But of course we can cope. We have got other world class players here so I'm sure they can do their job."
Grant will have to beat the odds to keep Chelsea in the title race without his top scorer and key midfielder.
Essien has just returned after a three-match ban - they were beaten by Arsenal in his absence - while Drogba going missing will also be a hammer blow.
It leaves Chelsea facing a huge battle to catch city rivals Arsenal and United in the title race.
But Essien insists Christmas is the time that they can make up ground and firmly believes they can come back from their setback at Arsenal.
Chelsea face a trip to Blackburn on Sunday but Essien maintains that the defeat at Arsenal has left them even more determined because they simply hate losing.
Essien said: "We are not far behind the leaders. The Christmas period is a difficult time but we have to keep going and see what we can do.
"We can bounce back after losing at Arsenal on Sunday. We play every game to win.
"We had one setback a Arsenal but I think we showed against Liverpool how much we hate losing and that we can win something.
"We are confident we have got the players who can do their jobs, win games and keep coming through difficult away games.
"We've got another tough away game on Sunday at Blackburn but we have to come through it.
"The players who are here are all together, working really hard to win something for the club.
"We are playing as a team, the confidence is back but now it's up to us to deliver.
"We are very bad losers. In fact, we hate to lose.
"It was tough to lose at Arsenal but it's up to us to forget it, keep ourselves together and come back strong.
"The next team normally pays for it because as you saw against Liverpool on Wednesday we don't like to lose two games in a row.
"That makes it important to always come back strongly and I think you saw that in everything we did against Liverpool."
Essien helped Chelsea to knock Liverpool out of the Carling Cup and book a semi-final with Everton.
The Premier League title remains the top priority but Essien says that retaining the Carling Cup is also a major target.
He added: "We must keep winning to go for the title. We are playing for trophies so every game is important.
"The semi-final with Everton is another big game but we'll see what we can do. I think it's important that we're just a couple of games away from the final.
"We're defending our title so every game in this competition is really important for us."

For more Ghana football news visit www.ghanasoccernet.com