Appiah : I'm not out of Nations Cup yet!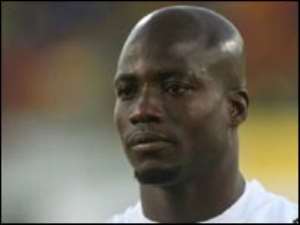 Stephen's statement on Injury Rumours
It is important that I update everybody especially fans of Ghana and Fenerbahce about my current state as
far as my health is concerned.
As you might have noted, I have not played for my club since I returned from the four-nation tournament in Ghana last month.
I have to say that I have had some complications from the injury that kept me out of action for five months.
There have been some rumours that I will be out of action for six months but I want to assure everybody that that is not the case.
I have had several tests and meetings with my doctors here in Turkey over the past 48 hours and there has been nothing conclusive. I am actually feeling very fine physically.
However, I am travelling to Italy on Thursday to meet another specialist in this area for further analysis.
After the meeting I will give you the full update on my condition.
I want to thank the people here at Fenerbahce and the fans for their support. I want my fellow countrymen
and women to know I will do all it takes to be available for Ghana when the African Cup of Nations starts.
I really want to help my country win the trophy on 10th February.
I also want to thank the Ghana Football Association and the coaches for their support throughout thisperiod.
I want to assure my colleagues in the national team that they should not be worried.
I need your support and prayers at this time.
Thank you.
Stephen Appiah