President Kufuor inaugurates Baba Yara Sports Stadium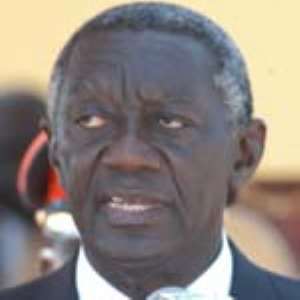 President John Agyekum Kufuor on Sunday inaugurated the refurbished and upgraded Baba Yara Sports Stadium in Kumasi.
President Kufuor had earlier cut the tape to inaugurate a fountain donated by Consar, contractors of the project, and unveiled a commemorative plaque at the main entrance to the stadium.
Speaking at the inauguration, President Kufuor said the government was committed to the development of sports facilities in the country.
To this end, he said, a 20,000 seating capacity stadium would be built at Cape Coast next year similar to those built at Tamale and Sekondi and would be replicated in other regions.
He commended the contractors for the additional facilities added to the contract and expressed the hope that spectators would handle the facilities with care while the authorities also adopted sound management practices to maintain the facilities at all times.
President Kufuor stressed the need for all and sundry to demonstrate goodwill and hospitality to people who would come to Ghana for the African Cup of Nations tournament next year.
Professor Dominic Fobih, Minister of Education, Science and Sports, said never in the history of the country had a government rehabilitated two stadiums and constructed two additional ones.
This, he said, showed the commitment the New Patriotic Party government had for the development of the nation and said they would be a great legacy for all Ghanaians and posterity.
Daasebre Osei Bonsu, Paramount Chief of Asante Mampong Traditional Area who represented the Asantehene, Otumfuo Osei Tutu II, said efforts should be made to roof part of the stadium for spectators in addition to the VIP stand.
Mr. Emmanuel Asamoah Owusu-Ansah, Ashanti Regional Minister, expressed his appreciation to all those who helped to complete the project.
Mr. Stefano Ramella Pezza, Managing Director of Consar, the Italian company, thanked the people in the metropolis for their goodwill and cooperation and that the fountain the company had donated would remain a symbol of cooperation between Ghana and Italy.

A friendly match between the Starlets and the Young Elephants of Cote d'Ivoire ended 2-0 in favour of the visitors.
Among the dignitaries at the ceremony were the First Lady, Mrs Theresa Kufuor, Mr. Kwadwo Baah-Wiredu, Minister of Finance and Economic Planning, Mr. Sampson Kwaku Boafo, Minister of Chieftaincy and Chief of Staff and Minister of Presidential Affairs Mr. Kwadwo Mpiani.