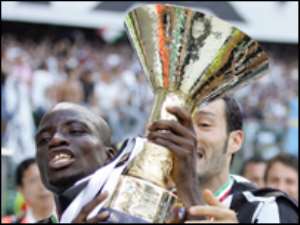 Ghana captain Stpehen Appiah is not expected to be a fan new England coach Fabio Capello. That is because the Ghana captain was enjoying his stay with Serie A giants Juventus until Capello joined the club.
Appiah enjoyed a solid first season with club, playing 30 first-team matches in the process under World Cup winning coach Marcello Lippi. But Lippi made way for Capello 2004 and soon after Appiah?s problems started. Appiah could only manage 18 appearances as Capello brought in his trusted Brazilian friend Emerson from Roma to take Appiah?s position. Even before the league started the new England coach asked Juventus board to transfer the Ghana captain which led to Appiah?s Fenerbahce move. But the typical Appiah did not complain about his treatment and left Turin on a quiet note.
But not all players are like Appiah. Some players have had run-ins with Capello and they have not been so calm about it. The new England manager likes an argument, and he doesn?t care who it?s with. Nick Harris of the Independent recalls the best ones:
Ruud Gullit fell out with Capello at Milan, 1992
Gullit announced he would leave Milan as soon as possible after being "publicly humiliated" by Capello in December 1992. The Dutchman had boarded the team bus for a Serie A game with Udinese, assuming he was a member of the 16-man squad, only for Capello to tell him he wasn"t involved and he didn"t want him on board. Gullit said he was so angry he "considered hitting him". "I must sort out my future immediately, as I will not stay with Milan any longer than necessary," Gullit said. Capello then reportedly threw Gullit off the bus before a game with Juventus, saying his approach was "take it or leave it". Gullit left it, for Sampdoria in 1993, only to return to Milan in 1994. In 1996, when manager of Chelsea, Gullit said: "You can"t keep everyone happy. I was in the same situation as a player at Milan... I hated Fabio Capello"s guts. But he was right. He had to do it and I ended up respecting him."
Paolo di Canio, Milan, 1996
Milan were on an end-of-season tour to China and Di Canio, the fiery striker whom Capello had signed from Napoli two years earlier, was insistent that he should be playing for the duration of the tour games. Capello takes even friendlies seriously, and in a game against a China XI in Beijing, and 1-0 up at half-time, he subbed Di Canio - one of three strikers - to bring on a midfielder to protect the lead. Di Canio asked: "What the fuck are you doing?" Capello apparently tried reason first. "Paolo, you"ve got to understand that we have to maintain a certain tactical equilibrium." This did not work, so he tried: "Paolo, get the fuck out of my sight!" To which Di Canio said: "You"re crazy! You"re sick in the head... I"m not going to hang around here and look at your ugly penis face any longer." Di Canio never played for Milan again, and joined Celtic soon afterwards.
Clarence Seedorf, Real Madrid, 1996
Capello moved from Milan to Real, where he spent a year in charge in his first stint there. Seedorf, then 20 and hot-headed, arrived around the same time from Sampdoria. There was no one single, spectacular bust-up, just a constant grating between the pair - Capello told a Dutch journalist: "Whenever I say anything, Seedorf always argues with me about it. Are all Dutchmen like that?"
Vincenzo Montella, Roma, 2001
Capello arrived at Roma in 1999, the same year as Montella, whose purchase had been organised by Capello"s predecessor, Zdenek Zeman. Capello did not favour short strikers (Montella is 5ft 7.5in), and thought that Montella worked better as an "impact sub", not a starter. On such a basis their relationship hobbled along fractiously, but matters came to a head as Roma chased the 2001 Serie A title and Capello waited until late in a vital game with Napoli to bring Montella on. The player kicked a plastic bottle at Capello, then gave him the finger and called his boss "piece of shit". Montella apologised soon afterwards, saying: "I admit my reaction was a bit excessive and not very polite and I regret this." Roma won the title, their first for 18 years.
Antonio Cassano, Roma 2004 and Real Madrid 2006-7
Capello signed Cassano, the one-time "future of Italian football" for Roma in 2001 when he was still a teenager. The petulant forward"s contribution and goals generally kept him in the team, but his moods and selfishness were a constant source of friction. And despite a bond that Cassano said at one point was like "father and son", Capello coined the term "Cassanata" in 2002, meaning a footballer whose behaviour was incompatible with team spirit. It is still used in general reference to similar players in Italy today. In 2004, Capello said: "Anarchy is always there with Cassano, that is a fact of life. My next argument with him is only around the corner. The last time we had words in training he shouted at me then ran away like a rabbit." Cassano moved to Real Madrid in early 2006 and was soon fined for gaining too much weight. Then Capello arrived as coach. In October last year, Cassano was suspended for "disrespect" to Capello, and he responded by asking Capello: "Have you got no shame? I fought for you in Rome and this is how you repay me?"
Francesco Totti, Roma, 2004
Totti and Capello fell out when Capello walked out on Roma to join Juventus in May 2004. Totti called Capello a "traitor" for leaving, and aired a hidden rift, saying that Capello had warned Roma"s younger players not to use Totti as a role model, but instead look to Brazil"s Emerson, who was a hard worker. Capello admitted: "It"s true that I told Daniele De Rossi not to follow Totti and [Antonio] Cassano"s example. I told him to stay close, to live a healthy life and follow Emerson"s lead if he wanted to achieve certain results. It was the advice that a coach must give to a young player who is growing, so that he doesn"t get lost in a moment of glory." Totti and Capello also argued in public over Antonio Cassano, with Capello hinting that Totti had led Cassano astray, and Totti blaming Capello for not being more of a disciplinarian with Cassano.
Alessandro del Piero, Juventus, 2005, 2006
Capello came under pressure from Juve"s fans to use Del Piero more often from the start and let him play 90 minutes. But when Capello did start him, he often took him off early, as he did twice in January 2005, to whistles from the crowd. Capello argued: "I am here for the good of Juventus and to make sure we get three points, for which I have to make certain choices. What do I think about the fans whistling? I take that on board, but nobody is indispensable. What is important is the result." In May 2005, Del Piero reacted badly to being substituted for the 26th time that season and was caught on TV cameras telling Capello: "Fuck off." Juve stopped talking to the media after that. In January 2006, Del Piero went public, saying that he was unhappy with a fringe role, adding: "The English league excites me... I want to play in more matches."
Thomas Gravesen, Real Madrid, 2006
Gravesen was quickly in trouble with Capello when the Italian took over at Real Madrid, for falling out with his team-mates and having a row with Robinho. "His behaviour? I don"t like it," said Capello of the Dane. "He wants everyone to do what he wants, and I have told him so." Gravesen joined Celtic soon afterwards, describing Capello as "arrogant" and Real"s players as "shits". "Capello arrived and told me in a very arrogant manner - without having seen me play - that he didn"t want me," he moaned. "He is not a nice guy. He didn"t even know my name. Mine wasn"t the only name he couldn"t remember. He referred to goalkeeper Iker Casillas as Bobo, which is the name of a former keeper who had already left the club."
Ronaldo, Real Madrid, 2006
Capello"s main beef with the man known as "el Gordo" or "Fatty" to fans at the Bernabeu was the Brazilian"s excess blubber. Ronaldo said: "I can"t be happy because what makes me happy - playing football - is missing from my life. The worst thing is not to have the trust of the coach, and to not know how to regain it." In November last year, Ronaldo was rarely a starter and Capello said: "He"s lost a lot of weight but he still needs to lose more to become the player that everyone knows." Ronaldo said: "I don"t have a problem with what he says. What bothers me even more is how the press interpret things... I think it"s ridiculous that we"re still talking about this. You are great when you score, and fat when you don"t." Shortly before Ronaldo was sent waddling off to Milan in January this year, Capello reportedly asked him: "Aren"t you ashamed of being so fat?"
David Beckham, Real Madrid, 2007
When Beckham announced in January that he would be joining LA Galaxy later in the year, Capello said he would never play for Real again. "Beckham will train with the team but he won"t play. He has always been a great professional, but if a player has such an important contract with another club you cannot count on him. You can"t have the same enthusiasm when your mind is on other things." Capello later changed his mind and Beckham helped Real to the title. Capello"s revisionist view of the matter surfaced in August, when he said that it was Real"s president, Ramon Calderon, not him, who had wanted Beckham dropped. Capello added: "When I work I always defend my employers in every way I can."
Guti, Real Madrid, 2007
The Spanish midfielder felt he deserved a regular place. The manager disagreed. Matters came to a head in February when Guti sustained a knock to his ankle in training and headed for the dressing room. Capello bawled at him: "Where are you going? Come back here right now, the training session hasn"t finished yet!" Real"s assistant coach, Toni Grande, tried to calm a furious Guti, who screamed: "Can"t you see I"m injured? I don"t care what crap the Italian is saying." Capello responded: "Guti, I"ll remind you that it"s me who gives the orders around here. Either you come back to the training session, or you"ll go to shit." To which Guti replied: "I"m not coming back. I"m off to the dressing room, and you"re the one that"s going to shit."
For more Ghana football news visit www.ghanasoccernet.com