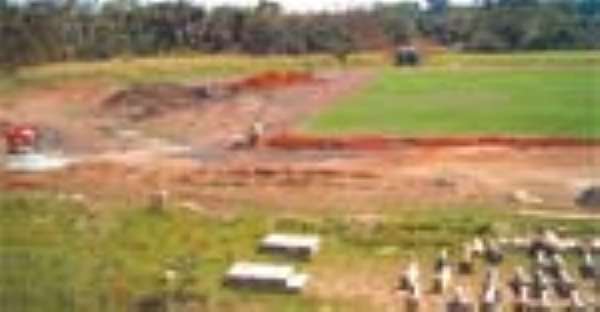 THE KUMASI Venue Organizing Committee (KVOC) of the upcoming MTN African Cup of Nations, Ghana 2008, has decried the slow pace of work at the four training pitches of the tournament in the Garden City.
Chairman of the Committee said he was highly dissatisfied and worried over the rate at which work on the pitches were being done.
Prof. Kwasi Kwafo Adarkwa, in an exclusive interview with DAILY GUIDE SPORTS in Kumasi recently, expressed doubt over whether the pitches would be ready for use during the tournament which kick-starts on January 20 next year.
The training pitches are the Paa Joe Park, Prempeh College and Opoku Ware Secondary School parks, as well as Wesley College Training Park.
Prof. Adarkwa, who could not readily disclose the name of the contractors working on the pitches, however urged those in charge of the project to expedite work in order to finish on time.
He said the KVOC did not have the authority to abrogate the contract, noting that the contractor was working under the Ministry of Education, Science and Sports.
The KVOC Chairman said his outfit had a contingency plan to save the situation in case the contractors were unable to finish the work on time.
"We will consider using the Guinness Training Pitch and a certain field at Wesley College should the contractors fail to finish the project on time," he noted.
The KVOC is mandated to ensure the successful hosting of the tournament in the Ashanti and Brong Ahafo regions.
Kumasi, one of the four venue-cities for the tournament would host countries in Group C, which comprise five and four times champions, Egypt and Cameroon respectively, as well as Sudan and Zambia.
Prof. Adarkwa however expressed delight about work at the Baba Yara Stadium. "It is a great edifice," he said, adding that the stadium had technically been handed over to the KVOC awaiting formal inauguration.
He said facilities at the newly rehabilitated Baba Yara Stadium were in good condition, noting that the stadium was of international standard.
The KVOC Chairman said hotel facilities in the region were in good conditions to cater for the national teams and numerous soccer loving fans that would throng Kumasi during the tournament.
He gave the assurance that the rehabilitated Kumasi City Hotel would also be ready for the soccer fiesta, noting that work on the project was at an advanced stage.
Prof. Adarkwa disclosed that hostel facilities in the city would accommodate some of the supporters.