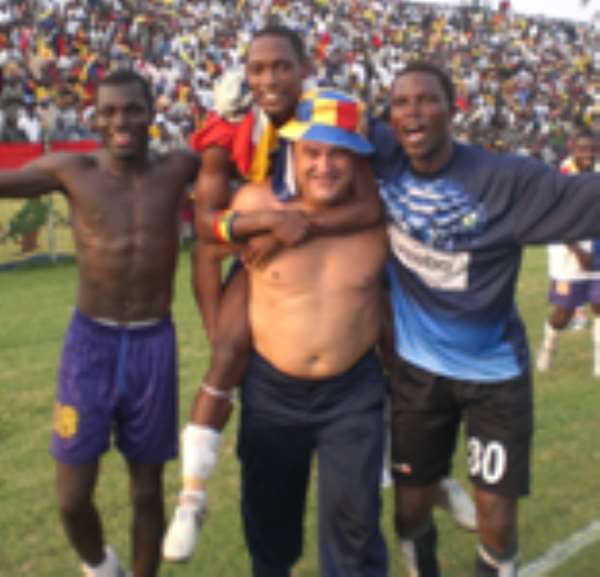 Defending league champions Accra Hearts of Oak has been asked to pull out of Africa for the 2008 season.
Seasoned football administrator, Harry Zakkour made the sensational outburst soon after seeing his beloved club Hearts drop points against Great Olympics in the first Premiership duel at the El Wak Stadium last Sunday.
"You saw things for yourself. Is this a team we must send to Africa?" he asked.
Mr. Zakkour who is also a director of the club said campaigning in Africa has become a very expensive exercise. "We must therefore have very good reasons for embarking on the journey," he said.
The debt profile of Hearts is said to have hit an alarming ceiling of 17 billion cedis.
Africa campaigns in recent times have left in their wake debilitating debts for all Ghanaian sides. Attempts to secure substantial governmental assistance have been hugely unsuccessful.
Mr. Zakkour warns it will "take time" for the current crop of players to mature into truly continental materials.
Hearts failed to score a single goal the last time they participated in Africa, failing to progress beyond the group stage. This year, they did not participate.
The decision to re-enter Africa was taken by the Board of Hearts headed by Commodore Mensah after a lengthy debate.
It's unlikely the Board will rescind the decision to campaign in Africa. But Mr. Zakkour insists it will be in the supreme interest of Hearts to save their blushes by forfeiting their Africa campaign for "better times ahead."
Hearts have in addition to failing to win their opening league game against Great Olympics last Sunday, also lost twice to Liberty Professionals in the past fortnight in cup matches.
Source: Africa Sports