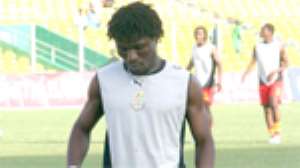 Ghana midfielder Laryea Kingston has been tipped to win Scotland's Player of the Year even though the season is yet to reach the halfway point.
The Hearts player was named Man-of-the-Match after Saturday's clash with giants Celtic which ended 1-1, prompting newspapers in Scotland to argue that he should be given the top award.
The newspaper Scottish Daily Record's banner headline screamed: "Kingston of the Castle", praising the performance of the Ghanaian.
In fact the race to the flag is becoming fascinating and if the likes of Hearts can perform as manfully as they did at the weekend on a consistent basis the road ahead will be fraught with danger for giants Rangers and Celtic.
However, that is a big if - for one reason in particular. Laryea Kingston may be the height of nonsense but his influence on his Hearts team is truly massive.
The little Ghanaian was a standout against Celtic, oozing class and dripping with trickery. Kingston was a joy to watch as he picked his way around a congested midfield without looking rushed or short of space.
But in a few weeks Kingston will pack his bags and join half of England's Premiership at the African Nations. He will be gone for five weeks.
"It's hard to imagine what Hearts will do without him. If McDonald is Celtic's spearhead, Kingston is the beating heart of Hearts," the newspaper said.
"Few players in this country have the ability to set the pulses racing but there is something to be admired about the manner in which this man goes about his work."
He was head and shoulders above the rest in a midfield battle that also included the likes of Scott Bro and Paul Hartley.
Darren O'Dea struggled to deal with Kingston and Andy Driver but he was not alone as there were others in green and white watching the game pass them by.